Wyoming Liberty Summit on December 4, 2021
Written by Mark Jones
Published: 23 November 2021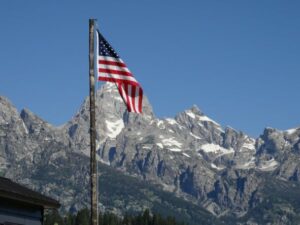 We face unprecedented threats to our American way of life, and our rights are being challenged every day! Can we save our liberty and freedoms during these uncertain times? Join GUN OWNERS OF AMERICA and LIBERTY'S PLACE 4 U WY for an eye-opening and action-oriented summit to discuss and plan how we can preserve and fight for our rights.
           Gun Owners of America                            Liberty's Place 4 U WY
We are inviting all freedom-loving citizens in Wyoming to come to the Liberty Summit and help build lines of communication among different groups in Wyoming.
Here are the details: 
Where: Hangar Bar & Grill, 1410 Prairie Lane, Bar Nunn (near Casper), Wyoming
When: Saturday, December 4th, 9:00am to 5:30 pm.  (Lunch available for a nominal fee)
Why: To join together like-minded citizens in informative and results-oriented meetings
Who: Mark Jones with Gun Owners of America, Mike Pyatt with Liberty's Place 4 U WY, and many other freedom-loving Wyoming citizens
At this event, you will hear informative presentations, take part in small and large group discussions, and help build strategies for preserving our rights.
Sessions include the following:
Opening Session
Stronger Together Than Standing Alone
Break Out Sessions to Discuss Strategies
Assessing Opportunities & Threats
Telling Your Unique Story
Group Presentations of Opportunities & Threats
Turning Outcomes into Strategies for Advancing Liberty
Take Home Tasks to Preserve and Protect Our Rights
Our goals are to establish a communication network and develop a united strategy for protecting and advancing the Second Amendment, protecting Wyoming citizens' Constitutional rights, and working with public and elected officials.
We anticipate a large turn-out and encourage anyone interested in helping advance the cause of liberty and freedom to attend.
Featured GOA News & Updates