Wall Street Jounal: GOP Senators Pushed to Join Gun Filibuster
Written by Janet Hook And Kristina Peterson
Published: 05 April 2013
Wall Street Journal
Opponents of new gun restrictions have mobilized during Congress's two-week spring recess to pressure lawmakers to block gun legislation, which the Senate is expected to consider after it returns next week.
At least 11 Republican senators have publicly committed to supporting an effort to block Senate leaders from even bringing a bill to the floor.
Brett Deering for The Wall Street Journal GOP Sen. Tom Coburn, center, talks to constituents Wednesday in Norman, Okla. He has faced tough questions at home about a Senate gun bill.
Gun Owners of America, a lobbying group that has taken a hard line against any new gun controls, is telling its members to ask senators during their home-state visits if they will join the effort to block the legislation. The threat to block any gun bill was initiated last week by GOP Sens. Rand Paul of Kentucky, Mike Lee of Utah and Ted Cruz of Texas.
"We have been encouraging our members in all the states to ask that question while their senators are home in this recess," said Erich Pratt, director of government affairs for the group. He said the group would take note of each senator's vote on allowing a gun bill to reach the Senate floor when it ranks lawmakers' voting records at the end of the year.
Maryland Lawmakers Pass Tough Curbs on Guns Among those being questioned back home was Sen. Tom Coburn (R., Okla.), a conservative and gun-rights advocate who has come under heavy lobbying pressure because he has worked with a bipartisan group that is negotiating a bill to expand the system of background checks of gun purchasers.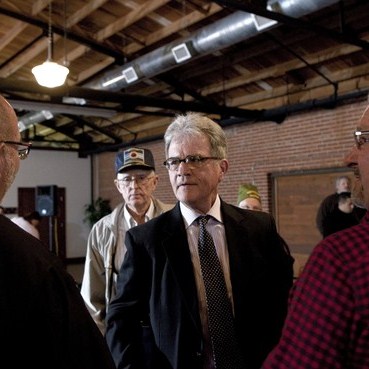 After Mr. Coburn was asked multiple times an identically worded question about whether he would join Mr. Paul's effort to block gun legislation as he traveled around Oklahoma in recent days, Mr. Coburn bristled at the idea that Mr. Paul would threaten to filibuster a bill before its contents were made final.
"Is that about filibustering a bill to protect the Second Amendment, or is that about Rand Paul?" Mr. Coburn said at a town-hall meeting at the Oklahoma Sports Museum in Guthrie, Okla., on Wednesday. "I've done more filibusters than Rand Paul is old," Mr. Coburn said, but he added that he doesn't announce such moves before he understands the bill.
The Senate was supposed to take up the gun issue soon after Congress returns from spring recess next week, but an aide to Democratic leaders said it might be delayed to allow more time for negotiators to reach a deal on background checks. Currently, those checks are required only for sales by federally licensed dealers. President Barack Obama and other gun-control advocates want to expand the checks to almost all gun purchases.
A bipartisan group of senators, including Sens. Charles Schumer (D., N.Y.), Joe Manchin (D., W.Va.) and Mark Kirk (R., Ill.), have been trying for months to craft a compromise version of the background-check expansion that could win over Mr. Coburn, whose support, in turn,could draw other Republicans.
Mr. Paul and his allies last week said in a letter to Senate Majority Leader Harry Reid (D., Nev.) that they would use delaying tactics to prevent a gun bill from coming to the Senate floor. They would need support from 41 senators to sustain a filibuster and thwart action on the bill. Senators who have joined in signing their letter include Sen. Marco Rubio of Florida and Sen. James Inhofe of Oklahoma.
A spokesman for Mr. Reid denounced Republicans for threatening to kill legislation before reading it. "Victims of gun violence at least deserve a vote," said Reid spokesman Adam Jentleson.
Organizing for Action, the advocacy group launched by several of the president's campaign advisers, is trying to rally support for gun-control legislation ahead of the Senate debate. OFA is teaming up with Mayors Against Illegal Guns to hold community events April 13 across the nation.
A version of this article appeared April 5, 2013, on page A5 in the U.S. edition of The Wall Street Journal, with the headline: Senators Pushed to Block Firearm Bill.
Featured GOA News & Updates