Why is the head of the Second Amendment Caucus opposing a bill the NRA supports?
Written by Autumn Price, Rare
Published: 06 December 2017
Why is the head of the Second Amendment Caucus opposing a bill the NRA supports?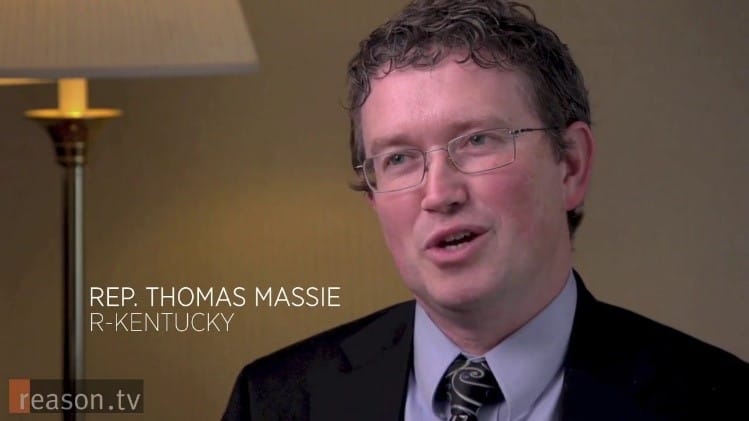 Rep. Thomas Massie (R-Ky.) announced Wednesday his opposition to a merge of Rep. Richard Hudson's (R-NC) national reciprocity legislation, H.R. 38, and H.R. 4477, a "Fix-NICS" bill.
Massie says House leadership plans to merge gun control with national reciprocity for concealed carry.
In a Facebook post, Massie says the "Fix-NICS" bill would allow "agencies, not just courts, to adjudicate your second amendment rights."
Massie, the Chairman of the Second Amendment Caucus, says the bill will advance former President Obama's gun control agenda, adding that the Senate's bill will send $625 million over five years to states to expand the national background check database. Massie says the House bill will also commission a study on bump stocks.
"["Fix-NICS"] encourages administrative agencies, not the courts, to submit more names to a national database that will determine whether you can or can't obtain a firearm," Massie wrote. "When President Obama couldn't get Congress to pass gun control, he implemented a strategy of compelling, through administrative rules, the Veterans Administration and the Social Security Administration to submit lists of veterans and seniors, many of whom never had a day in court, to be included in the NICS database of people prohibited from owning a firearm."
Massie continued, "Only a state court, a federal (article III) court, or a military court, should ever be able to suspend your rights for any significant period of time."
Democratic Senator Dianne Feinstein and Senate Minority Leader Chuck Schumer are cosponsors of the Senate bill.
Massie says the bills should be voted on separately if the House does not change the flawed Fix-NICS bill.
"If our House leadership insists on bringing the flawed Fix-NICS bill to the floor, they shouldn't play games," he said. "We should vote separately on HR 38, the Concealed Carry Reciprocity Bill, and HR 4477, the Fix-NICS bill. And we should be given enough time to amend the Fix-NICS bill, because it needs to be fixed, if not axed."
The National Rifle Association (NRA), who has endorsed both bills, has criticized Massie for "spreading misinformation" and called his claims "incorrect." The NRA insists the H.R. 4477 has been through a "very thorough and public markup session of its own" and argues that each bill has enough votes to pass on its own.
But other gun rights groups disagree.
Erich Pratt, Executive Director of Gun Owners of America (GOA), applauded Rep. Massie for standing up to House Leadership. "Gun Owners of America agrees with Rep. Thomas Massie's assessment of the problems of 'Fix NICS,'" Pratt told Rare.
Featured GOA News & Updates