White House eyes September action plan for gun proposals
Written by JULIEGRACE BRUFKE AND PETER SULLIVAN, The Hill
Published: 14 August 2019
The White House is in talks with lawmakers from both parties on gun control proposals, hoping for a plan of action before September…
Staff for Sens. Joe Manchin (D-W.Va.) and Chris Murphy (D-Conn.) — two key senators on gun control — met with White House staff on Tuesday. And Sen. Pat Toomey's (R-Pa.) office has also been involved in talks.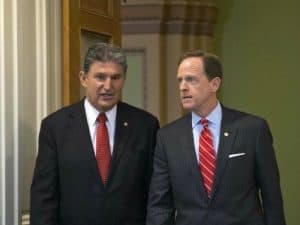 Manchin and Toomey are the co-authors of a 2013 background check bill that was rejected by the Senate, and Murphy is a leading champion of gun control, having taken up the cause after the deadly 2012 shooting at Sandy Hook Elementary School in his home state.
Trump has publicly praised the idea of strengthening background checks, following pressure to act after back-to-back mass shootings earlier this month in El Paso, Texas, and Dayton, Ohio…
"We had a very good conversation," Trump said on Tuesday. "We'll see what happens."
"I can tell you, from my standpoint, I would like to see meaningful background checks," Trump added. "And I think something will happen…
Gun rights groups, a powerful force in the GOP, are putting pressure on Republicans not to take action.
Michael Hammond, legislative counsel for Gun Owners of America, said his group has been in touch with the offices of GOP senators, warning them: "If you think that you're going to win the next election by destroying your base, you better think again."
Hammond said he thinks Trump is already backing off from a push for universal background checks, and would propose something smaller, like an enhanced version of the "Fix NICS" law improving the reporting of information to the existing background check system. Congress passed that bill last year.
Featured GOA News & Updates