Weapons, flags, no violence: Massive pro-gun rally in Virginia capital
Written by Gregory S. Schneider, The Washington Post
Published: 20 January 2020
Thousands of gun rights advocates packed the streets around the Virginia Capitol on Monday, bristling with weapons, flags and threats of insurrection but never erupting into the violence authorities had feared.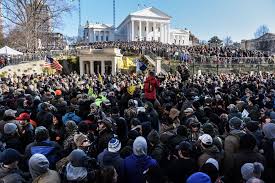 Armed militias carrying assault-style weapons marched in formation until the crowds grew too thick. Protesters without firearms filed through 17 metal detectors at a single entrance to Capitol Square, where Gov. Ralph Northam had temporarily banned weapons, and cheered fiery speeches about the Second Amendment…
Democrats who had met with pro-gun lobbyists Monday morning said they, too, were responding to thousands of fired-up constituents — the voters who put them into office on the promise of stricter gun laws. "You will see sensible gun-violence-prevention legislation pass this year," Del. Alfonso H. Lopez (D-Arlington) said before heading into a party caucus…
Police said about 6,000 people passed through the checkpoint into Capitol Square. But estimates differed on the size of the larger crowd that remained on the streets. Public safety officials said there were about 16,000 people, based on how many blocks of street and sidewalk were filled, while rally organizers said they believed there were twice that many…
The program of speakers took about an hour and featured lawmakers and conservative activists, including Stephen Willeford, who shot and wounded a mass shooter at a church in Sutherland Springs, Tex., in 2017.
"We must be vigilant, we must be united, and we cannot stand by," he said of the prospect of gun control. "The world is watching right now what we will do. . . . Our backs are against the wall. We will not comply."
Read more at The Washington Post
Featured GOA News & Updates