Video: Hunter Takes Out Mountain Lion From 5 Yards Away In Self-Defense
Written by Justin Hoffman
Published: 09 November 2017
Video: Hunter Takes Out Mountain Lion From 5 Yards Away In Self-Defense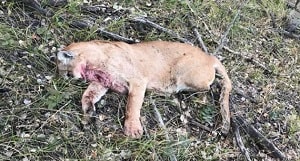 Talk about one scary encounter in which the hunter became the hunted.
Seldom seen, the mountain lion is akin to a ghost in the woods—secretive, solitary and a highly capable killer. And, although mountain lion attacks on humans are rare, they do happen.
Dylan Ross, a Colorado resident, could have easily become a statistic on Nov. 5. While working a mountain for mule deer that morning, he came face-to-face with a hissing lion that suddenly surprised him from 5 yards away.
Here's Ross' account of what happened, as posted to his Facebook page:
"Words can't even describe my hunting experience yesterday. I was an hour over a vertical mountain before it got light. I got to the other side and was sneaking through the timber then suddenly I hear something to my left. I turned and it was a lion! No more than 5 yards away. Right when I turned she hissed and came at me. I killed her at 8 steps away from me. It's one of the scariest things that's ever happened to me. I took these mountains for granted. All the way down that mountain all I could think about is I was one moment away from never seeing my family and my 2 little girls again. I killed the lion at 7:34 A.M. then came all the way back down that mountain. I reported it to DOW, I showed them all the video evidence and GPS coordinates and they said it was all legal. Unfortunately I wasn't able to keep the lion."
Featured GOA News & Updates