Virginia House to take up draconian gun restrictions soon
Written by Erich Pratt
Published: 29 January 2020
House Bills Will Make Gun Owners Criminals for Innocent Activity
Tell Your Delegate to Vote NO on Gun Restrictions
The House of Delegates in Virginia will be taking up several very anti-Second Amendment bills in the next few days.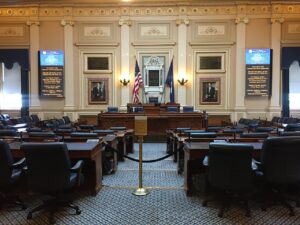 First, there is HB 2 (Del. Plum) a supposed Universal Background Check which defies description.
After July 1, 2020, if you are in a gun store and you simply put your hand on a firearm you think you may like to purchase before the gun store receives a background check from the state police you are guilty of a Class 1 Misdemeanor.
If the Store clerks actually gives you the gun to hold to see if you did like it, he would be guilty of a class 6 felony – with five years in jail if this is done before the state police report back to the store clerk with the results of your NICS check.
The bill criminalizes most any "transfer" of a weapon from person A to person B because to "transfer" literally means to remove from one place, person to another; pass or hand over from one to another, specifically to change over the possession or control.  This inane provision makes no one in Virginia safer.  But it heavily complicates the purchase of a gun.
A wife who asks her husband to take her handgun from the top of the dresser and put it safely away so the grandkids cannot access when they come over is also a class six felony, and her husband commits a Class 1 misdemeanor because no background check was done to "validate" the process.  This is beyond senseless.
It is hard to figure out if the proponents of such gun legislation are completely thoughtless, malicious or both.
In any case, I need you to write your delegate today. (Please take action above)
The next bill HB 812 (Del. Ward) limiting the purchase of handguns to one a month also will do nothing to make Virginia safer.
Both the killer who murdered 11 victims in Virginia Beach municipal building in early 2019 and the murderer who killed 34 teachers and students and injured many more at Virginia Tech in 2007 purchased two handguns more than a month apart. Both used their two handguns lawfully purchased more than a month apart to murder many innocent persons
In fact, the study of the Virginia Tech murders specifically noted that the killer apparently waited just over a month to make his second handgun purchase because of Virginia's law then making limiting handgun purchases to one gun a month.  So, was the killer a law-abiding citizen? No!  He was a murderer who just bided his time.
The one gun a month Virginia law which was repealed did not save one life.  But Gov. Northam now wants it passed again to convince Virginians he is "doing something" about crime.
Your delegate needs to hear from you on this bill, as well.
The third bill, HB 1083 (Del. Hayes), basically tells parents they are not competent to decide how to store their guns away from their children, and the bill makes it nearly impossible for gun owners to quickly access a firearm if home intruders decide to break into you home.  Heavy penalties are imposed for violators.
Again, please use the pre-written text so you can quickly let your delegate know that you want him or her to vote NO on all of these bills. Again, please take action above.
Thank you.
Featured GOA News & Updates