VA: Urge Governor Northam to amend or veto SB 70
Written by Erich Pratt
Published: 02 April 2020
SB 70 Puts Virginians in Harm's Way
The Governor Must Veto or Amend SB 70
As you know, GOA opposed SB 70 during the regular legislative session. This bill, introduced by state Sen. Louise Lucas (D), requires a formal background check be conducted before selling or trading any firearm between all private parties (except immediate family members).
Even though SB 70 passed the General Assembly and now awaits the Governor's signature, we still oppose this unconstitutional bill, as well as, every Leftist initiative aimed at ending our inalienable Second Amendment rights.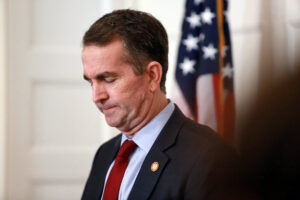 But until we succeed in registering more new voters than the Leftists register, and elect more Second Amendment supporters to office, we will be in the position of trying to blunt or lessen the bad effects of dangerous legislation introduced by the gun control crowd.
SB 70 will require that every sale and purchase (except between immediate family members) of a firearm in Virginia be conducted at a federally licensed firearms dealer.
If, due to the Coronavirus pandemic, gun sales increase (as they are) and the instant background check system becomes overloaded, SB 70 could make it very inconvenient if not virtually impossible for private individuals to buy or sell a firearm from another private individual.
They will sometimes have to travel a great distance to find a federally licensed dealer, and, might have to return a second time if the required background check did not go through the first time.
Before the Coronavirus reared its ugly head, Governor Northam supported the requirement that every sale and purchase be conducted at an FFL store.
Now that we are living with the effects of the virus, and because the Governor has mandated social distancing to avoid greater Coronavirus infection, it would not make common sense for the Governor to insist that these private party gun sales be conducted in public, in person, at a Federal-Firearm Licensed store.
In fact, it goes against the Governor's own directive to stop the spread of the Coronavirus infection.
So please take action to send a prewritten message to Governor Northam (above).  And then send a followup message to your state legislators.
President Trump very recently explained that, based on the evidence and medical advice of doctors and scientists at the National Institutes of Health, the Coronavirus could very well alter future social interactions for some time.
Urge a Veto of SB 70
This is precisely why I believe we have a chance to convince the Governor to amend or significantly delay SB 70 — if not veto this horrible legislation!  It would be against logic given the current health crisis, to demand private gun sales be conducted in person and only at FFL stores.
SB 70 would if signed by the Governor, intentionally place citizens in harm's way by making them leave their homes, possibly travel a long distance from home to the gun dealer, and risk exposure to the health-compromising and potentially lethal virus, simply to buy or sell a firearm.
There is absolutely no evidence that these private party gun sales were making Virginia less safe.  Our right to self-defense and right to defend our liberty against the ever-encroaching government is spelled out in our Second Amendment.  It would be an undue burden, especially during these unusual times, to require such in-person gun sales among law-abiding private parties.
Holding Double Standards 
We simply ask you to urge the Governor to be consistent with his message of remaining home and complying with social distancing prohibitions. If the Governor signs SB 70, it would create a double standard by requiring Virginians to travel distances and expose themselves to unnecessary harm.
The Governor also has stated that an indoor firing range is not an essential business, and gun ranges will be closed.  Of course, we know firing ranges are vital businesses to the safety of Virginians because they foster target practice and teach gun safety and would easily comply with social distancing requirements!
GOA even asked the Trump Administration to classify the firearms and ammunition industries as necessary businesses.  We were very pleased that the Trump Administration did place the firearms and ammunition industries on the federal government's essential business list.  Shooting ranges are also on the essential list!
Since the Governor expressly asked for this particular bill regarding background checks for private-party gun sales, he will most likely be reluctant to veto it.  But the Governor can amend SB 70 to be "passed again" (or reenacted) next year to delay the measure's implementation, at least during the virus crisis.
Basically, this action would be a "soft" veto and would require SB 70 proponents to start over again to pass SB 70 in 2021.
The Governor must understand that he has no right to place Virginia gun owners in harm's way for exposure to the Coronavirus by requiring private parties to sell or purchase firearms at FFL dealers during a period of virtual quarantine.  If signed, SB 70 will effectively close down private gun sales and purchases, at least during the period of social restrictions.
Please take action to send a prewritten message to Governor Northam. And then send a followup message to your state legislators.
Please do this as as possible as the deadline for the Governor to act is a mere few days away!