Trump Protects Gun Rights of Social Security Beneficiaries
Written by Bob Adelmann
Published: 04 March 2017
Trump Protects Gun Rights of Social Security Beneficiaries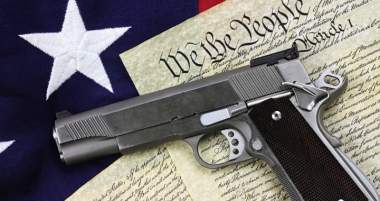 "The SSI 'gun ban' is history, and it's time to move on, to take advantage of that change and the momentum now favoring liberty." — GOA's Executive Director Emeritus, Larry Pratt
---
Trump Protects Gun Rights of Social Security Beneficiaries
President Donald Trump kept another of his campaign promises on Tuesday by signing into law House Joint Resolution 40, rejecting a final rule submitted by the Social Security Administration. That rule would have infringe upon precious rights protected by the Second and Fifth Amendments to the Constitution. The White House explained the dangers of the SSA rule had it been implemented ….
"The final rule is estimated to impact negatively 75,000 people every year. But what's to keep the SSA from expanding its rule to include everyone receiving any benefits (not just Disability or SSI) through a "representative payee" — i.e., bookkeeper, associate, family member — or expanding the definition of mental illness to include anyone who disagrees with the rule?"
Not only is the right to due process, guaranteed under the Fifth Amendment, abrogated, but such a rule is infinitely expandable, as noted by Larry Pratt, executive director emeritus of Gun Owners of America (GOA): "The SSI gun ban would have been the inevitable precursor for gun bans for Social Security old age, Medicare, Medicaid, and ObamaCare recipients."
But the landscape has changed. The SSI "gun ban" is history, and it's time to move on, to take advantage of that change and the momentum now favoring liberty. Wrote Pratt:
We hope and expect that Trump will overturn Obama's executive actions by doing the following:
Withdrawing the U.S. from the UN Arms Trade Treat and the UN Small Arms Treaty;
Overturning the State Department's "Gunsmith Ban";
Declaring, by executive action, that "safety-free" school zones are unconstitutional — and that parents and teachers should have the right to defend our kids, rather than leaving them as helpless "sitting ducks";
Obliterate Obama's illegal NFA [National Firearms Act] regulations which make it effectively impossible for many in New York, California and other places to obtain a Class III license;
Withdrawing the U.S. from suits seeking to uphold unconstitutional federal and state gun bans and gun restrictions, and
Repealing the succession of gun and ammo import bans — going all the way to George H.W. Bush's semi-auto import ban.
In addition, wrote Pratt, "We are also working with Congress to pass pro-gun legislation, and send it to Trump's desk, so that he can 1) defund states that impose semi-auto bans or maintain gun registries; 2) repeal restrictions on interstate firearms sales; 3) repeal the Hughes Amendment [a prohibition on the civilian possession of any fully-automatic firearm manufactured after May 19, 1986]; and much, much more."
May the date — Tuesday, February 28 — the day that President Donald Trump restored rights protected by the Second and Fifth Amendments, be etched into the history of the restoration of liberty in the American Republic. 
Featured GOA News & Updates