Trump decries act of 'pure evil,' GOA speaks out
Written by Debra J Saunders, Review-Journal
Published: 03 October 2017
Trump decries act of 'pure evil,' GOA speaks out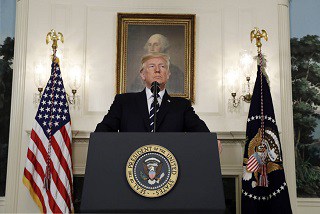 "Everyone at the Gun Owners of America was extremely troubled and saddened to see the tragic and terrifying report of the shooting in Las Vegas," Executive Director Erich Pratt said. "It is disturbing to see anti-gun politicians and celebrities politicizing the tragedy by calling for further restrictions on guns."
---
Trump decries act of 'pure evil,' GOA speaks out
President Donald Trump will visit Las Vegas on Wednesday to meet with law enforcement, first responders and families of victims of America's deadliest ever mass shooting — an act he described as "pure evil."
In a somber mood, Trump addressed the nation Monday and sought to bring the nation together. "My fellow Americans," he said, "We are joined together today in sadness, shock and grief."
"Our unity cannot be shattered by evil," he later added. "Our bonds cannot be broken by violence. And though we feel such anger at the senseless murder of our fellow citizens, it is our love that defines us today — and always will forever."
Trump, who ordered American flags to be flown at half staff, also praised law enforcement for finding the shooter "so quickly after the first shots were fired," saying that saved lives.
Click here to see more GOA News articles like this one.
Before noon Monday, Trump spoke on the phone with Clark County Sheriff Joseph Lombardo, Las Vegas Mayor Carolyn Goodman and Nevada Gov. Brian Sandoval.
While Lombardo told reporters the shooter appeared to be a lone wolf, Trump said that the FBI and Homeland Security would work with local law enforcement.
The president did not mention U.S. gun violence in his remarks, but gun control advocates were not silent.
Gabby Giffords, the former Arizona congresswoman who was severely wounded in a 2011 assassination attempt that left six others dead, called a press conference to challenge Washington to pass stricter gun regulations. "This must stop," she said in a statement. "We must stop it."
Sen. Chris Murphy, D-Conn., recalled the 2012 Sandy Hook elementary school shooting. "To my colleagues," he tweeted, "your cowardice to act cannot be whitewashed by thoughts and prayers. None of this ends unless we do something to stop it."
Trump has portrayed himself as a strong supporter of gun owners. At an April session of the National Rifle Association Leadership Forum, Trump said to applause, "The eight year-assault on your Second Amendment freedoms has come to a crashing end. You have a true friend and champion in the White House."
"Everyone at the Gun Owners of America was extremely troubled and saddened to see the tragic and terrifying report of the shooting in Las Vegas," the group's Executive Director Erich Pratt said. Pratt added, "It is disturbing to see anti-gun politicians and celebrities politicizing the tragedy by calling for further restrictions on guns."
At Monday's press briefing White House Press Secretary Sarah Sanders chided reporters who asked if Trump might change his views and come to support tougher gun laws. "It would be premature for us to discuss policy when we don't fully know all of the facts or what took place last night," Sanders responded.
Featured GOA News & Updates