Taco Bell Employees Open Fire, Shoot Robbery Suspect Six Times
Written by AWR Hawkins, Breitbart
Published: 07 September 2017
Taco Bell Employees Open Fire, Shoot Robbery Suspect Six Times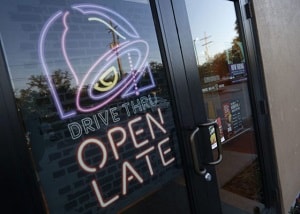 Police say three armed Taco Bell employees shot and killed an early morning armed robbery suspect in Cleveland, Ohio, on Wednesday.
The incident occurred around 2:45 a.m.
According to Fox 8, police said two suspects entered the store "wearing masks and ordered the employees to the ground at gunpoint." There were multiple employees in the store at the time and three of them responded by opening fire.
Click here to see more Self-Defense articles like this one.
One of the suspects was hit "six times." Cleveland.com reports that "officers found him unconscious with a faint pulse lying face-up on the floor with a loaded gun still in his right hand." The second suspect was able to flee before police arrived and there are no reports as to whether he was hit.
Featured GOA News & Updates