Supreme Court to decide to hear US Army vet's 'unconstitutional' gun suppressor this week after national controversy
Written by Laura Widener, American Military News
Published: 03 June 2019
The fate of a disabled U.S. Army veteran convicted of possessing an untaxed firearm suppressor is in the hands of the Supreme Court, which is slated to decide whether or not to accept his petition this Thursday.
Jeremy Kettler has been appealing to the higher courts since his November 2016 conviction in Kansas of possessing a suppressor he purchased to avoid worsening his hearing loss suffered during his military service – possession that allegedly violated the National Firearms Act (NFA), according to Guns.com in January.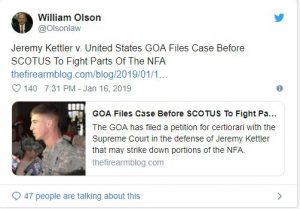 Kettler failed to pay a $200 tax and file ATF (Bureau of Alcohol, Tobacco, Firearms and Explosives) paperwork to register the suppressor, which he purchased from a local Army-Navy surplus store. The owner of the store, Shane Cox, was not licensed to manufacture such accessories, and was also found guilty for illegal manufacture and marketing.
Although federal law requires silencers to be registered per the NFA, Kansas state law says that all firearms, accessories and ammo manufactured and possessed inside the state are exempt from federal law.
The suppressors were stamped with "Made in Kansas," and both Kettler and Cox argued that they were acting in accordance with Kansas' Second Amendment Protection Act.
Kettler noted this point in his appeals, arguing that the NFA was "an invalid exercise of Congress' power to tax." His lawyers argued that the tax only exists as a form of gun control.
However, the 10th U.S. Circuit Court of Appeals rejected his challenge in October 2018, upholding his original sentence of one year on probation.
Kettler, along with Gun Owners of America (GOA), filed a petition to the Supreme Court this past January to have the constitutionality of the case considered.
Attorneys General from Arkansas, Idaho, Kansas, Louisiana, Montana, South Carolina, Texas and Utah joined in the request.
In the petition, Kettler's legal team explained that the 10th Circuit found that silencers are considered accessories and therefore not granted Second Amendment protection.
"Under that sweeping logic, Congress could ban all ammunition without violating the Second Amendment. That cannot be correct," the team argued. "The panel's sole rationale for holding that silencers were not protected was that silencers were not 'bearable arms,' a rationale that would apply equally to ammunition. That improper analysis warrants reversal."
Kettler's petition argued that the case was actually a "constitutional dispute" between Kansas and the federal government.
"Jeremy Kettler's petition presents solid, well-argued questions important to all gun owners, and we hope the Court will grant certiorari to decide them," said Erich Pratt, executive director of Gun Owners of America.
The Supreme Court is expected to issue a decision on June 6 for whether or not they will review the case.
Read more at American Military News
---
This article has been updated to reflect that the Supreme Court will decide whether or not they'll agree to review the case on June 6, and are not issuing a decision on the case itself. American Military News regrets this error.
Featured GOA News & Updates