Stricter regulations for concealed carry permit classes, other laws in Virginia go into effect
Written by Tyler Arnold | The Center Square
Published: 04 January 2021
Several new laws went into effect in Virginia with the arrival of a new year, including stricter regulations on concealed carry permit classes, a ban on surprise medical billing and financial relief for insulin.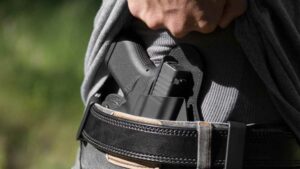 Virginia law requires people to obtain a concealed carry permit to carry a concealed weapon in the commonwealth and to complete a state-approved class before submitting the application. Under previous law, an applicant could satisfy the requirement with online classes, but a new law that went into effect Friday now mandates in-person classes before applying for a permit.
Lawmakers who supported the new law expressed concern that the old process was too quick and easy, but opponents said the new law will make the process more complicated. The Senate passed legislation that would have delayed the enactment of the new until May to avoid increasing difficulty during the COVID-19 pandemic, but the bill did not pass the House.
"This change in the law is solely an effort by the anti-gun crazies in Richmond to limit the right to carry and the ability to protect oneself," Erich Pratt, the senior vice president of gun-rights organization Gun Owners of America, told The Center Square.
"They truly don't care about gun safety," Pratt said. "After all, fatal gun accidents have fallen almost 50 percent during this century. Gun owners are responsible and seek out training on their own. But this new law is all about setting up hurdles to discourage gun owners from carrying firearms."
Virginia is a shall-issue state, which means the state must issue a license to any person who can legally possess it and fulfills the state's requirements. State authorities have no other discretion when granting the permits. A person must be at least 21 years old to obtain a permit. The commonwealth also is an open carry state, which means a person who can own a firearm legally can carry a weapon without a permit as long as it is visible and not concealed.
Read more at The Center Square
Featured GOA News & Updates