Is Gun Confiscation coming to the Granite State?
Written by Michael Hammond
Published: 18 January 2019
Is Gun Confiscation coming to the Granite State?
Stop the Democrat Push for Gun Confiscation!


Click on the Take Action button to urge your state lawmakers to oppose HB 687, a bill that will enable "red flag" Gun Confiscation Orders in the state!
Protect Due Process and Stop Red Flag Laws
Dear Friend:
You've seen it in movies or historical documentaries.
You know how people living in despotic countries have feared the dreaded "knock-on-the-door" in the middle of the night.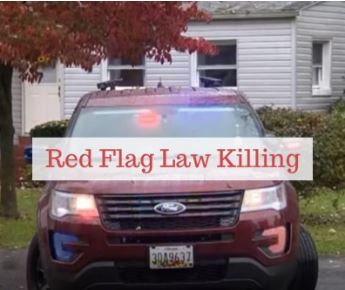 And, if it was your door, chances are that you would be arrested — or shot to death on the spot.
Well, guess what?
This reality has already arrived in some parts of the United States.
And it may be coming to New Hampshire if anti-gun Democrats have their way.
Consider this: Gary Willis was a 60 year-old "gentle" man who lived in a suburb of Washington, D.C. A non-immediate relative who had a petty gripe with him convened a "secret court" under Maryland's new Gun Confiscation law (also known as a "red flag" law), in order to get revenge.
The court stripped Willis of a wide variety of constitutional rights, based only on the testimony of his enemy-accuser.
(This is not surprising, given that a New Mexico court had once issued a one-party order against David Letterman for supposedly sending a coded message to a New Mexico housewife by way of her TV set.)
At any rate, Willis, not surprisingly, answered the door with a gun in his hand. And, when the police grabbed him and a struggle ensued, they shot him to death.
That's right. A summary execution in the early morning of a gentle 60-year-old who did nothing wrong.
Well, if anti-gun Democrats have their way, police will soon be coming to the doors of Granite Staters in the middle of the night.
Gun Confiscation Orders are a HUGE failure
So let's understand what we're talking about: Gun Confiscation Orders (sugar-coated as "ERPOs" or "red flag laws") aren't being pushed to prevent suicides or protect the public.
Rather, they're being pushed by Michael Bloomberg and people who hate guns for the sole purpose of taking us one step closer to the time when all guns are banned from private ownership.
And, yet, for all the repression, Gun Confiscation laws didn't stop massacres in Newtown, Connecticut or Thousand Oaks, California.
They couldn't have stopped massacres in Las Vegas and Sutherland Springs. And even in Parkland, the shooter was rated by police as "low risk," thereby precluding any possibility of getting a Gun Confiscation Order against him.
So we're beginning a long campaign to stop legislation being pushed by state Democrats which would create "knock-in-the-middle-of-the-night" Gun Confiscation Orders in New Hampshire.
I'm talking about court orders that will be issued, ex parte, that is without the accused being present. These orders can even be issued by a judge, verbally over the telephone.
A family member, any police officer or even a Fish and Game Conservation Officer can petition the court to confiscate your guns.
Our local partners at the New Hampshire Firearms Coalition have pointed out many of the abuses of Conservation Officers and with this new-found power the abuse will only get worse.
And if you are subject to such an order you have to pay to have your firearms stored by law enforcement who cannot be held liable for damage to your guns when they are in their care.
Not surprisingly, the anti-gunners pushing it are proposing everything we predicted back in December and more.
We must defeat HB 687
The bill number in the New Hampshire legislature is HB 687, and the sponsors include the usual rogue's gallery of anti-gun Leftist Democrats.
HB 687 has been assigned to the Criminal Justice and Public Safety Committee, but a hearing has not yet been scheduled.
However, it is time to start urging the Committee to vote HB 687 "inexpedient to legislate." Then contact your own State Representative and ask them to oppose HB 687.
So please take action and urge state lawmakers to oppose HB 687, the "knock-in-the-middle-of-the-night" Gun Confiscation program.
Sincerely,
Michael Hammond
Legislative Counsel
P.S. Please email your state lawmakers to oppose Red Flag Gun Grabs. And if you've let your membership lapse, make sure to renew your membership in Gun Owners of America today for only $20!
Featured GOA News & Updates