[Take Action] "Extreme Risk Protection Orders" strip gun owners of their constitutional rights
Written by Michael Hammond
Published: 23 April 2018
Gun Confiscation Coming to Pennsylvania?


Click on the Take Action button (No longer active) to urge your state lawmakers to oppose the Gun Confiscation Order bills, SB 1141 and HB 2227.
---


Not a GOA member yet? We need you more than ever right now.
---
Take Action to Stop Gun Confiscation Orders!
Dear friend:
In a dramatic attack on the Second Amendment, the Pennsylvania legislature is moving to authorize Gun Confiscation Orders in the Keystone State.
The bill numbers are Senate Bill 1141 in the Senate and House Bill 2227 in the House.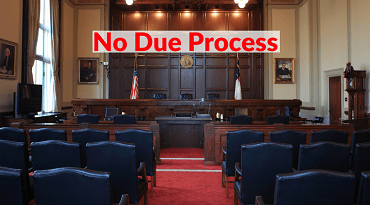 At their core, Gun Confiscation Orders — cynically disguised as "red flag laws" or "extreme risk protection orders" — would authorize the police or an angry "ex" to convene a secret star-chamber "ex parte" hearing on whether to suspend your Second, Fourth, and Fourteenth Amendment rights.
The first thing gun owners learn is when police knock on the door — ready to ransack their house and, if you resist, to arrest or even shoot you and your family.
The standard is not whether there is probable cause to believe that the gun owner has committed a crime, as the Constitution would seem to require. Rather, the standard is some subjective determination about whether the gun owner represents some "danger."
As in the film Minority Report, Americans are stripped of their fundamental constitutional rights based on the subjective possibility of a "future crime."
And we know from our limited experience that many accusers lie or make mistakes — even more reach delusional conclusions — and the target is frequently an abused victim who is most in need of the wherewithal to protect against an abuser.
When the accuser is the only one in court, the judge will normally sign the order. Thus, in Seattle, 28 of 29 Gun Confiscation Order applications were approved.
In Massachusetts, in connection with analogous but less far-reaching "restraining orders," one of sponsors admitted that "judges don't ask very many questions" before rubber stamping ex parte orders.
After a fixed period of time, the gun owner can ask for a court hearing to restore his or her constitutional rights.
But guess what? Few gun owners have the sophistication or the thousands of dollars it would take to hire a lawyer and expert witnesses.
And few courts are willing to second-guess themselves and reverse the Gun Confiscation Order which has been issued.
In fact, hundreds of thousands of veterans have lost their gun rights without due process pursuant to a comparable procedure.
And recent revelations from the VA suggest that fewer than 50 have successfully invoked this "process" to get their rights back.
Although they preexisted in a couple of states, Gun Confiscation Orders really picked up steam when the Bloomberg/Giffords gun control organizations decided to push them as the most extreme aspect of California's anti-gun laws.
Since then, the bills have been mass-produced based on a template in the backroom of Bloomberg's New York offices and exported for quickie adoption in states like Pennsylvania, with only minor tweaks.
Amazingly, the tweaks made by Bloomberg's Pennsylvania agents make this state's gun confiscation bills much more insidious than most other states:
There is absolute civil and criminal immunity, which means that an angry "ex" can bring a vengeful, bad faith ex parte petition without consequences, so long as the person couches their lies in subjective accusations. It also means that police can break down your door and shoot you and your family without consequences.
The definitions are poorly crafted and could expand the universe of complainants to distant relatives and high school sweethearts.
Even if a gun owner is absent or unrepresented, the burden of proof is a scintilla of evidence past 50% in order to strip a person of his constitutional rights.
But there's a larger issue: If the Constitution can be suspended in a secret hearing, where does this lead?
What if this newspaper could be shut down for 21 days without due process — based on a secret complaint? Or an individual could be arrested or imprisoned for 21 days? Or tortured?
Far from being a "consensus proposal," the suspension of the Constitution in a secret hearing is a constitutional Rubicon from which there is no return.
So please contact your state lawmakers and urge them to oppose Gun Confiscation Orders, SB 1141 and HB 2227.
Sincerely,
Michael Hammond
Legislative Counsel
PS: GOA is fighting against gun confiscation orders in Pennsylvania and across the country. Could you chip in $20, $30, or $50 to the fight?
Featured GOA News & Updates