Bill to Block Federal Gun Control Going to the Governor! — Urge Gov. Haslam to sign the bill into law
Written by admin
Published: 14 April 2015
Your hard work has paid off!
Last month, we alerted you to legislation that says Tennessee public funds cannot be used to implement Obama's illegal and unconstitutional gun control.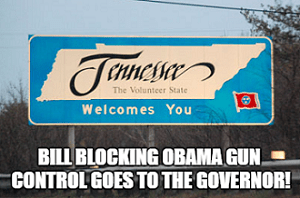 That legislation (SB 1110) has been passed in both chambers and is now on its way to the Governor's Mansion.  The bill passed 74-20 in the House and 29-1 in the Senate.
Please contact the Governor and take action today!
ACTION: Contact Governor Bill Haslam and urge him to sign Senate Bill 1110 into law.  And please urge your pro-gun friends and family to do so as well.