West Virginia Senate Passes Constitutional Carry!
Written by admin
Published: 04 March 2015
Last week, the West Virginia state senate, by a vote of 32-2, approved Senate Bill 347, the constitutional carry legislation.  
Under this bill, West Virginians would no longer be required to get the government's permission to exercise their Second Amendment rights to carry a firearm to protect themselves and their families.  Moreover, the bill drops the legal age to carry concealed to 18-years-old.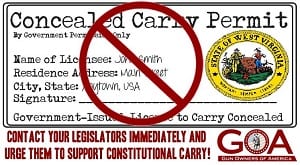 Senators Ronald Miller (D-Greenbrier) and Corey Palumbo (D-Kanawha) were the only two who voted against this pro-gun bill.  If either one of them is your Senator, then please let him know your extreme displeasure with how he voted.
As for your representative, tell him or her that open carry is already legal in most of West Virginia without a permit.  Why should citizens of the state have to get a permit just to put a coat over their firearm?
The bill is now in the state house, so please urge your representative to support the bill.
ACTION: Urge your state representative to support SB 347 without any limiting amendments. By using this link here, your state representative will be automatically selected, and then you can use the pre-written letter to help your comments to them.