Sacrificing Gun Rights for Public Safety?
Written by Christopher Norris, The Good Men Project
Published: 31 July 2019
Homicide rates in Philadelphia have been steadily increasing since 2017, the year when 315 people here were killed.
In 2018, the final homicide tally was 353, the highest since 2007. And as of Sunday, June 28th, 185 dead bodies have been counted, marking a five-percent increase over last year….
Philadelphia Mayor Jim Kenney and Councilwoman Bass are among a number of local and state Democrats who support Safe Haven bills, which would ban guns from the city's parks, playgrounds and recreation centers….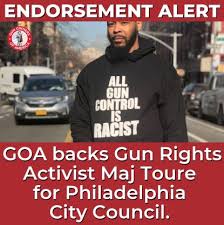 An immediate critique of this bill came from Mr. Maj Toure, the founder of Black Guns Matter who's campaigning for a seat on the Philadelphia City Council as an independent. Mr. Toure has been endorsed by Gun Owners of America, who called him a Second Amendment champion.
"I have tremendous respect for the men and women who are saying that they're in alignment with this bill, but I would encourage them to really reevaluate … and to read the constitution," Mr. Toure said on Thursday, when we met for over an hour in the courtyard of City Hall….
Mr. Toure totally dismissed the Safe Haven concept, calling the forthcoming bills a "cotton candy solution."
"We do not just get to throw anything at a problem. It's a cotton candy solution. Cotton candy is no real substance; it tastes good; it might make you feel good for the moment … you'll have a sugar high, but it'll disintegrate on your tongue. There's no nutritional value … it doesn't even feed you," said Mr. Toure.
The guns rights advocate and North Philly native further argued that more rules won't deter lawless gunmen.
"Overwhelmingly, city and states that respect the right to keep and bear arms have notoriously lower violent crime," said Mr. Toure, who was citing a 2015 report from the Crime Prevention Research Center, which noted that murder and violent crime rates are lower in the 25 states with the highest gun permit rates than the rest of the country.
Mr. Toure further stated:
"… the Big cities that push more and more of the same thing, have spikes in violent crime. If I'm the bad guy, I do not care about your rule … there's already a rule against murder!"
To the candidate's point about rules, a gunman on Sunday shot up a food festival in California, a state with some of the strictest gun laws.
The gunman killed three people and injured at least 15 others at the Gilroy Garlic Festival before police fatally shot him. According to Newsweek, while California already had tight gun laws in place, a number of new restrictions went into effect this year, including a measure barring people under the age of 21 from purchasing firearms.
Featured GOA News & Updates