RELEASE: Gun Owners of America Releases Congressional Scorecard for 2018 Midterm Elections
Written by admin
Published: 17 October 2018

October 17, 2018
For immediate release
Gun Owners of America Releases Congressional Scorecard for 2018 Midterm Elections
"It's essential that Americans across the country get out to the polls to vote pro-gun; GOA's Congressional Scorecard makes it easy to see which candidates respect the Second Amendment."
Springfield, VA – Gun Owners of America (GOA) today released the Congressional Scorecard for the 2018 midterm elections.
"GOA's Congressional Scorecard is a comprehensive guide on every congressman and senator who is up for reelection, along with their challengers," Erich Pratt, executive director of GOA said.
The scorecard holds candidates for office to the Second Amendment's high standard of "shall not be infringed" when distributing ratings.
"GOA's scorecard doesn't sugarcoat anyone's record," Pratt said. "It's the kind of rating that gun owners would expect from a no-compromise group like GOA. It's one that gun owners can trust, because it's only based on voting records and/or public statements by the candidates."
Furthermore, the 2018 midterm elections present both danger and opportunity for gun owners.
"If the Democrats take over the Congress, Rep. Nancy Pelosi has already said that passing gun control is one of her top priorities," Pratt stated. "However, if GOA-backed candidates are sent to Washington, then there is a real opportunity to pass pro-gun legislation in the 116th Congress."
"It's essential that Americans across the country get out to the polls to vote pro-gun," Pratt concluded. "GOA's Congressional Scorecard makes it easy to see which candidate respects the Second Amendment."
To view GOA's Congressional Scorecard, click here or the image below.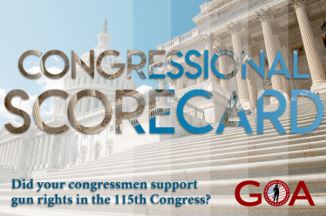 Erich Pratt, or another GOA spokesman, is available for interviews. Gun Owners of America is a nonprofit lobbying organization dedicated to protecting the right to keep and bear arms without compromise. GOA represents over 1.5 million members and activists. For more information, visit GOA's Newsroom.
— GOA —