Wyoming: 'More Guns Per Capita Than Any State,' Below Average Gun-Related Murders
Written by AWR Hawkins
Published: 04 August 2016
Wyoming: 'More Guns Per Capita Than Any State,' Below Average Gun-Related Murders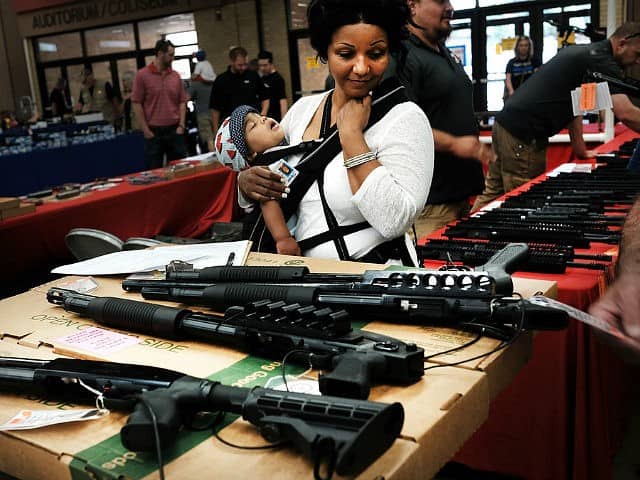 Wyoming has "more guns per capita than any state"–yet they have a gun-related murder rate that is below the national average.
Park County Sheriff Scott Steward told CBS News there are so many guns in Wyoming that those who do not own one "are very much in the minority." As for the gun-owning majority, Steward said, "The low end's going to be probably four to five [guns in the house], high end's going to be anywhere from 100 to more."
All those guns, yet the state's gun-related murder rate is below the national average. And this is why Steward is fine with Wyoming's per capita dominance on gun ownership. He views the armed citizenry as a means of augmenting the "handful of deputies" he has at his disposal.
Steward said, "We might have three on duty in the county to cover 6,000 square miles. Sometimes you can have a deputy on one side of the county and get a call 40 miles away; chances are he's not gonna get there to intervene in any kind of conflict that may be going on." That leaves the armed citizen to stand in the gap.
CBS News' Ted Koppel asked, "So what you're telling me is, people need to be able to take care of themselves?" Steward responded, "Absolutely."
The high rate of gun ownership in Wyoming–coupled with a correlating below average gun-related murder rate–dovetails with what studies showed as private gun ownership skyrocketed nationally between 1994 and 2009. According to the Congressional Research Service, the 192 million guns in private hands in 1994 swelled to 310 million firearms in 2009. At the same time, the "firearm-related murder and non-negligent homicide" rate was 6.6 per 100,000 Americans in 1993. Following the exponential growth in the number of guns, that rate fell to 3.6 per 100,000 in 2000. It fell to 3.2 per 100,000 by 2011.
Featured GOA News & Updates