Good Guy with a Gun Stops School Shooter in Illinois
Written by Associated Press
Published: 15 May 2018
Good Guy with a Gun Stops School Shooter in Illinois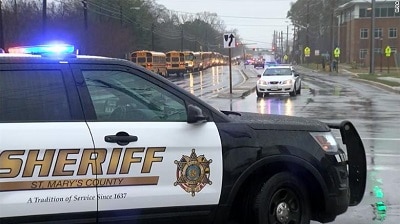 Charges were filed against a student who was wounded by a police officer after firing shots in a northern Illinois high school hallway while staff and seniors were meeting for a graduation rehearsal, Illinois State Police announced late Wednesday.
Matthew A. Milby, 19, of Dixon is charged with aggravated discharge of a firearm, aggravated discharge at a school employee and aggravated discharge at a school building. Milby, who was wounded in an exchange of gunfire with a school resource officer, remains hospitalized with what authorities describe as non-life-threatening injuries and is under surveillance. A Lee County judge set bond at $2 million.
Officer Mark Dallas, who has worked at Dixon High School for five years, was hailed as a hero for shooting and arresting Milby.
"He saved an enormous amount of lives," Lee County Sheriff John Simonton said. His comments were echoed by Illinois Gov. Bruce Rauner, who in a statement credited "Dallas for his bravery and quick action to immediately diffuse a dangerous situation."
The shooting happened shortly after 8 a.m. Wednesday.
Click here to see more Self-Defense articles like this one.
Police Chief Steven Howell Jr. said several shots were fired near the auditorium, and Dallas rushed to the area to confront the gunman.
Howell said Dallas chased the suspect after he fled from the school. The suspect fired several shots at the officer, who returned fire, wounding the suspect and taking him into custody.
Police said they believe the gunman acted alone and that there was no further threat to anyone in the area. Howell declined to discuss why Milby brought a gun to the school.