Stop gun control in New Mexico!
Snuff out Gun Confiscation, Universal Background Checks, and more!

Click on the Take Action button to urge your state representative to OPPOSE HB 8, HB 35, HB 40, HB 83, HB 87, and HB 130.
---
Not a GOA member yet? You can join Gun Owners of America for only $20.


---
Urge to Oppose Gun Control
You know how people living in despotic countries have feared the dreaded "knock-on-the-door" in the middle of the night.
And, if it was your door, chances are that you would be arrested – or shot to death on the spot.
Well, guess what?
That scenario may be on its way to New Mexico if House Bill 83 is enacted into law. That bill will receive a hearing in the House Consumer Public Affairs Committee on Thursday, January 24.
Under section 5, any law enforcement personnel can ask a court to issue an order stripping any New Mexican of his Second, Fourth, Fifth, and Fourteenth Amendment rights. It wouldn't even take an "ex parte" secret court proceeding; the request could be made by E-MAIL.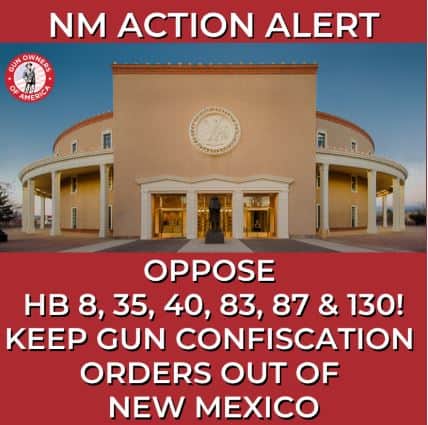 Under section 6, an angry ex-girlfriend can convene a "secret court" (ex parte proceeding) to strip a gun owner of his Second, Fourth, Fifth, and Fourteenth Amendment rights — without giving the gun owner the opportunity to tell his side of the story to the "secret court."
We have a lot of experience with these "secret courts." Here in New Mexico, a New Mexican judge issued a restraining order against David Letterman for supposedly sending secret coded messages to her over her TV set.
In another case in Oregon, an angry "ex" created one false story after another to retaliate for her perceived slights.
In yet another case in Ferndale, Maryland, a distant relative took out a "red flag" order because of the gun owner's political views. In that case, the police arrived at the gun owner's home at 5:17 a.m., and, when he, understandably arrived at the door with a gun, they shot him to death.
Sure, if the gun owner is still alive, he can spend $10-20,000 on attorneys in order to convince a judge that he made a mistake — and that the order shouldn't be made permanent. Our experience is that, in most places, this is a fool's errand.
Gun Confiscation Orders (sugar-coated as "red flag laws") — such as the ones which would be created by House Bill 83 — are little more than a suspension of the Constitution with no due process whatsoever.
Also scheduled to be heard on January 24 are:
House Bill 87, which would, among other things impose a gun ban on persons committing crimes as minor as damage to property;
House Bill 130, which would, potentially, make criminals of people required to keep loaded firearms for self-defense;
House Bill 8 and House Bill 40, which would ban many or all private gun sales — and set the stage for a registry of gun owners;
House Bill 35, requiring gun dealers to pay a big fee so that the New Mexico could screen every gun coming into their inventory for "potential theft."
As we said, these bills will be taken up by the House Consumer Public Affairs Committee, which may be one of our best chances to nip them in the bud.
If you can, please attend the committee hearing. One way or another, contact the committee members and urge them to oppose this anti-gun legislation.
In liberty,
Jordan Stein
Director of Communications
Follow me on Twitter: @jordankstein
P.S. Please urge your state representative to oppose these gun controls. And if you've let your membership lapse, make sure to renew your membership in Gun Owners of America today for only $20!
Featured GOA News & Updates