Gun Controllers debate wonder how to keep guns from those who shouldn't have them
Written by Katie Zezima, The Washington Post
Published: 16 November 2017
Gun Controllers debate wonder how to keep guns from those who shouldn't have them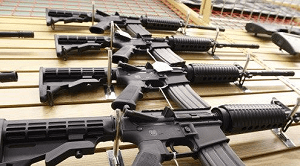 "If California, with all this gun control, hasn't been able to use gun control to stop it, what can you do that California hasn't done?" GOA's Michael Hammond said.
---
Gun Controllers debate wonder how to keep guns from those who shouldn't have them
The recent mass shootings in California and Texas that killed a total of more than 30 people were committed by men who should not have been able to obtain firearms, highlighting the difficulty of preventing people who want guns from getting them.
In Sutherland Springs, Tex., Devin Kelley killed 26 people in a church using an assault-style semiautomatic rifle even though he should not have been able to get a gun at all — his domestic assault convictions while in the Air Force were not reported to national background check databases.
And in Rancho Tehama Reserve, Calif., Kevin Neal, who used an assault-style rifle in a spree that left five dead, was prohibited by a court from owning or possessing a gun because of legal troubles.
[Calif. gunman killed his wife before rampaging through community, trying to storm elementary school]
The cases raise concerns for both gun control advocates and those who lobby for legal gun ownership: No one wants any mass shootings to happen, but how can firearms be kept out of the hands of people who should not have them while preserving Second Amendment rights for law-abiding citizens?
"It's the million-dollar question," said James Densley, an associate professor of criminal justice at Metropolitan State University in St. Paul, Minn.
Dozens of people stand in the rain to pray and sing at the memorial crosses near the First Baptist Church of Sutherland Springs, Tex., one week after 26 people were killed there. (Carolyn Van Houten/The Washington Post)
It also has brought about a rare point of agreement between gun rights groups and gun control advocates. Both believe the FBI's criminal background check system is woefully inadequate and needs to be shored up. The National Instant Criminal Background Check system is known to be missing millions of records of criminal convictions, mental illness diagnoses and other signs that a potentially dangerous person should not be able to purchase a firearm.
…
Michael Hammond, legislative counsel for Gun Owners of America, said the nation is going through "cycles of horrific crimes, followed by mass attention, followed by copycat shootings to get the same amount of attention." He does not believe that more laws are the answer, noting that one of the shootings occurred in California, which has some of the nation's strictest gun laws. He said that is evidence that additional legislation won't stop mass shootings.
"If California, with all this gun control, hasn't been able to use gun control to stop it, what can you do that California hasn't done?" he said.
Featured GOA News & Updates