GOA to Watch Ryan Speakership Carefully
Written by AWR Hawkins
Published: 25 October 2015
GOA to Watch Ryan Speakership Carefully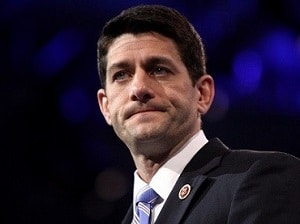 Representative Rep. Paul Ryan's (R-WI) 2014 gun control vote could present another obstacle to this path to the Speakership of the House.
It is certainly one more aspect of Ryan's past that caused Gun Owners of America to warn that a Ryan Speakership would simply be "Boehner on Steroids."
Ryan's 2014 gun control vote came amid the emotional outpouring that followed Elliot Rodger's May 23, 2014, Santa Barbara attack. Although Rodger passed a background check, registered his guns with the state–as is required in California–and only used ammunition magazines of 10 round or less, Ryan voted for Representative Rep. Mike Thompson's (D-CA-5th) amendment providing $20 million to expand the amount of information states are putting in the National Instant Criminal Background System (NICS) database.
Thompson's House webpage showed that the amendment was supported by Gabby Giffords' gun control control PAC Americans for Responsible Solutions, as well as "Everytown for Gun Safety, the Brady Campaign to Prevent Gun Violence, Sandy Hook Promise, Third Way, the Coalition to Stop Gun Violence… [and] States United to Prevent Gun Violence," among others.
In addition to this, there was an example of Ryan showing an openness to more gun control in the wake of the heinous attack on Sandy Hook Elementary. Just over a month after Adam Lanza stole guns then used them to attack innocents in the gun free zone at Sandy Hook, Ryan told Meet the Press's David Gregory that Congress needed to look at background checks and "[make] sure there aren't big loopholes where a person can illegally buy a firearm."
Note: Ryan turned his attention to background checks and was even willing to re-examine them to see if "loopholes" needed to be closed–although background checks had nothing to do with the Sandy Hook attack because Adam Lanza stole his guns. There will never be a background check that can stop someone intent on stealing guns for criminal use. That Ryan thought it wise to re-examine background checks after such a heinous attack suggests gun rights may be up for grabs after every public crime that occurs under a Ryan Speakership.
Featured GOA News & Updates