Background Checks Can Easily be Used to Deny Honest Gun Owners
Background Checks Can Easily be Used to Deny Honest Gun Owners
— WalMart's deal with Mayor Bloomberg underscores major problems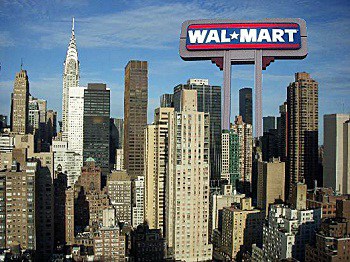 In 2008, WalMart caved in to New York Mayor Michael Bloomberg and his fraudulently-named Mayors Against Illegal Guns. In the process, it agreed to a ten-point agenda pushed by Bloomberg.
In particular, point #9 prohibits firearms sales to purchasers who have not received an affirmative go-ahead at the end of the NICS check's three-day waiting period.
In other words, if the FBI gives a "yellow light" — perhaps, because a gun buyer is unlucky enough to have the same name as someone in the NICS system — then WalMart was essentially saying it would not sell the firearm, even though federal law specifically allows the sale to proceed.
This three-day provision was inserted into federal law to prevent federal bureaucrats from illegitimately denying millions of gun buyers — simply by its refusal to take a position. Some gun dealers choose not to sell a firearm after the three-day limit. Others don't.
The result is that many law-abiding gun owners can't purchase firearms, not because the FBI has disapproved them, but because it has refused to answer "yes" or "no."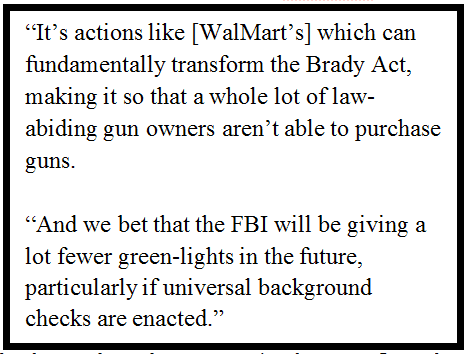 It's actions like this which can fundamentally transform the Brady Act, making it so that a whole lot of law-abiding gun owners aren't able to purchase guns.
And we bet that the FBI will be giving a lot fewer green-lights in the future, particularly if universal background checks are enacted.
Gun Owners of America has long argued that honest gun owners should not have to prove their innocence to the government before exercising their God-given rights. One should never give a bureaucrat a chance to say no — it only leads to abuses.
For one thing, the FBI's computer system has often gone offline for hours at a time — sometimes for days. And when it has failed on weekends, it results in the virtual blackout of gun sales (and gun shows) across the country.
When the NICS system is down, the only place one can buy a gun legally is from a private seller, and now the President wants to eliminate that last bastion of freedom!
Recently, the FBI's system went down on Black Friday, angering many gun dealers and gun buyers around the country. "It means we can't sell no damn guns," said Rick Lozier, a manager at Van Raymond Outfitters in Maine. "If we can't call it in, we can't sell a gun."
Researcher John Lott says that, in addition to crashes in the computers doing the background checks, "8 percent of background checks are not accomplished within two hours, with almost all of these delays taking three days or longer." And almost 100% of these initial denials turn out to have been illegitimate.
Such delays could be deadly for people, especially women, who need a gun in an emergency to defend themselves from an ex-boyfriend or husband.
Featured GOA News & Updates