New Hampshire House Files Gun Bans for 2020
Written by Alan Rice, GOA New Hampshire Director
Published: 30 September 2019
Anti-gun Majority Has Already Filed Several Gun Ban Bills for 2020.
I have good news and bad news.
The good news is that on September 18, the New Hampshire House voted to sustain Governor Chris Sununu's vetoes of gun control.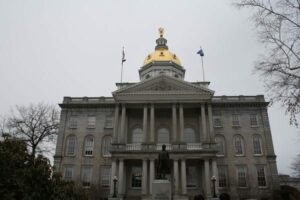 But the bad news is that radical gun banner, Rep. Katherine Rogers has reintroduced many of her anti-gun bills for the 2020 legislative session.
Right now, all of the Rogers gun bans are titles, known as Legislative Service Requests (LSRs). However, based on the names of the sponsors and the titles, I'm pretty sure that 2020 will be much the same as 2019.
We will be in a huge fight to retain our freedom.
In addition to legislation that would impose waiting periods, and a ban on sales or gifts between friends and family members, Rep. Rogers has also filed LSR 2020-2001, a bill to "impos[e] a ban on assault weapons in New Hampshire."
I've been involved in firearms civil rights issues for over thirty years and based on that experience, I'm comfortable telling you that LSR 2020-2001 will ban the sale of (and may even confiscate) your lawfully owned firearms.
Former Congressman, Robert Francis "Beto" O'Rourke revealed his party's true plans when he said: "Hell yes, we're going to take your AR-15 and AK-47."
What's ironic is that Rep. Rogers seems to be in favor of making sure that cats are able to defend themselves by sponsoring this LSR:
2020-2084 Title: prohibiting the declawing of cats.
Think about this carefully. Rep. Rogers wants to make sure that cats have the ability to defend themselves, but she relentlessly advocates banning guns, and thus denies human beings their natural right to self-defense.
The anti-gun LSR list does not end with the Rogers' LSRs. Rep. Mary Heath has sponsored LSR 2020-2060, which is a bill "relative to possession of firearms on school property."
And don't forget that the House Criminal Justice and Public Safety Committee retained HB 687, which is gun confiscation. They will likely try to ram that bill into law next year.
Rep. Peter Schmidt has at least acknowledged that Article 2a of the New Hampshire Constitution is a roadblock to gun control because he has introduced LSR 2020-2262. This bill establishes "a committee to study the repeal or amendment of the New Hampshire constitutional provision for the bearing of arms."
This is an all-out war on our freedom, liberty and ability to take responsibility for our own defense against violent criminals — especially since the courts have repeatedly ruled that the police have no duty to provide protection services to citizens and cannot be held liable for failure to do so.
I want to make the seriousness of these attacks perfectly clear.
2020 is an election year.  The radical Left is sponsoring these bills because they think the issue is a winner.
They seem to think that the voters of New Hampshire want gun control but we think they are misreading the electorate.
Reps. Rogers, Heath and the House leadership will attempt to force Republicans to vote for gun control and to force Governor Sununu to cave and either sign gun control or allow it to become law without his signature.
These radicals know that if the Republicans fold, they will lose at the ballot box because leftist voters will never support them, and their base will largely abandon them.
Make no mistake: these bills are not about public safety, they have been introduced to facilitate a leftist takeover of New Hampshire.
Whichever party controls the legislature will control the apportionment of legislative districts after the 2020 census.  If we lose, our children, grandchildren and probably great grandchildren will be forced to live in a far less free New Hampshire.
Here's where you come in.  GOA is committed to New Hampshire and we will continue to provide you with timely information on when these bills will be heard and who you should call and email to oppose them.
Both the legislature and the governor need to hear from you.  They need to know that if they have your back during legislative season, that you will have their back during the election season.
I have said it before and I'll say it again, because New Hampshire is in the Northeast, we will always be just one election away from disaster in the form of New York style gun control.
However, when gun owners remain alert and engaged, we can win; just like we did this year.
So, to keep our winning streak alive, I need you to do two things:
1) If your State Representatives voted to uphold the governor's vetoes thank them, if they didn't let them know you are disappointed; and,
2) Remind them that you will be paying attention in 2020 and that you expect them to oppose all gun control in 2020.
If you click the bill numbers below, a new window will open and you can see if your representatives voted for or against freedom.
How to Contact Your State Reps.
After that, follow this link to find your representative and their contact information. You can use the email addresses provided with your Reps. contact info to thank or "spank" them in relation to how they voted.
Here are the House votes which sustained Governor Sununu's vetoes:
·         HB 109, which would have prevented your from selling, loaning or giving your gun to a friend or family member;
·         HB 514, which would have forced you to wait up to 6 days between the purchase and delivery of a firearm;
·         HB 564 which would have made our children less safe by putting anyone who carried a gun to a school in jail; and,
·         HB 696, elder care gun confiscation.
Please let your State Reps know that you support GOA, and urge them to oppose all gun control in 2020.