Oppose firearm bans in Holly Springs North Carolina
Written by Andy Stevens
Published: 31 August 2020
We Won a Partial Victory Last Month in Holly Springs
Now We Need Your Help to Finish the Job on Tuesday, September 1st
Last month the Mayor and Town Council of Holly Springs heard loud and clear from the community it serves that Freedom and the 2nd Amendment are alive and well.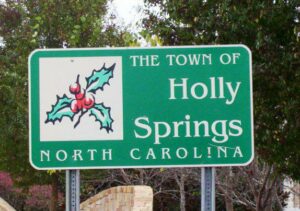 According to the Mayor, the level of engagement by the public on this issue exceeded anything he's ever seen in 19 and a half years of public service.
The comments, including those of GOA's NC State Director Stevens, were overwhelmingly in favor of tabling both of the proposed town ordinances prohibiting lawful open and concealed carry in the Town of Holly Springs.
However, while lawful concealed carry restrictions were indeed tabled, three members of the Council chose to delay a final decision on open carry. Two, if not three, of the five Council Members, desperately want to find a way to impose open carry restrictions and, hence, the matter reappears for a vote Tuesday night, September 1st.
NO FIREARM ZONES are killing fields. Time and time again, history has shown us that "no firearms allowed" signs DO NOT work.
The criminal and the mob are only emboldened by such ignorance on the part of politicians believing these signs work.
Law enforcement authorities will arrive in a minute or two of a call? Not likely at all.  In fact, think of ten to fifteen minutes at least.  How many lives could be destroyed in that time frame?
The first responders to a tragedy are the people present.  If armed, they may prevent a calamity.  If unarmed, they can run, hide, or die.
As I write this call for action, the businesses in Downtown Raleigh — who earlier on Friday boarded up their shops in anticipation of violence, rioting, looting, and worse — to come Friday night saw their worst fears realized on Friday night.  The Mayor's curfew was not enforced.  We live in lawless times where progressive "Woke" political leadership demands law enforcement to step down and let havoc wreck its toll.  The need to protect ones' self and loved ones is never more apparent than it is today.
Despite this rampant lawlessness, Holly Springs, in Southern Wake County and mere miles away from Raleigh, will readdress OPEN CARRY restrictions at a 2nd Town Council meeting on September 1st at 7 pm.
Please attend the council meeting and email your opposition to banning freedom. One registered "Republican" who is leaning left may join the two Michael Bloomberg robots and pass the ban.
He needs a polite wakeup call and a reminder to back away from gun bans. We need more voices!
NOTE THAT THE COUNCIL WILL NOT ALLOW PUBLIC SPEAKERS FROM THE FLOOR SO YOUR EMAILS AND CALLS ARE MORE IMPORTANT THAN EVER!
Town of Holly Springs
128 S Main Street
Holly Springs, NC 27540
Town Hall Phone: (919) 557-3901
Tuesday, September 1st, 7 pm
IMMEDIATE ACTION REQUIRED!
ATTEND THE COUNCIL MEETING:  SEPTEMBER 1st at 7 PM
EMAIL the TOWN COUNCIL: (See below)
Councilman Villadsen's public phone number is:  919 272-8540
SUBMIT YOUR COMMENT INTO THE RECORD BY ALSO E-MAILING THE TOWN CLERK, (Ms. LINDA MCKINNEY)
PLEASE CONTRIBUTE TO GOA and GRNC: Help us fight gun control while we promote Second Amendment principles. Please CLICK HERE to contribute to GOA and CLICK HERE to contribute to GRNC.  Any amount helps, and any amount is appreciated.
Featured GOA News & Updates