NC: Time to Override Veto of Pro-Gun Bill
Written by Matthew Patterson
Published: 07 July 2020
Governor Roy Cooper Fails to Support Common Sense Pro-Gun Bill
Being elected to a statewide office in a southern state is difficult without the support of gun owners. That's why Gov. Roy Cooper feigned support for the Second Amendment to get elected as Governor.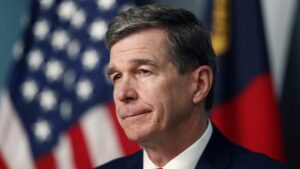 His actions show his true intentions, and what we observed just recently is that Gov. Cooper is not about to defend the rights of his constituents.
Gov. Cooper recently vetoed a common sense bill that would have allowed people attending religious services at private institutions to carry their firearms, just as they already can at regular religious services.
The Governor stated that, "This bill allows guns on school property, which threatens the safety of students and teachers." This excuse is pathetic, especially given the fact that students and faculty are not typically at school when these services are taking place — such as Sunday morning or Wednesday evening.
Gov. Cooper is using the standard strategy from the anti-gun playbook and hiding behind his apparent concern for the children to disguise his anti-Second Amendment agenda.
The owners of these private institutions should be able to decide for themselves what their policy should be.
Luckily, Gov. Cooper's veto is not the end for this bill. There is a possibility for an override of his veto, given that the measure passed the Senate and House with strong bipartisan margins of 33-14 and 77-38 respectively.
The Speaker of the House, Tim Moore, has stated that the legislature has the votes to override the Governor's veto. So, we just need to remind them that we are watching and that we want them to support the Second Amendment.
It is especially important that you Take Action, as we need as many letters as possible going to the Democrats in the North Carolina legislature.
These letters will only be going to Democrats, as the Republicans are solidly behind overriding the veto.
So please tell Democrat Representatives and Senators (above) to override the Governor's veto and allow church goers to carry their firearms and defend themselves on private grounds.
Featured GOA News & Updates