NBC News: John Cornyn, Chris Murphy 'Near Bipartisan Deal on Gun Control'
Written by AWR Hawkins, Breitbart
Published: 15 November 2017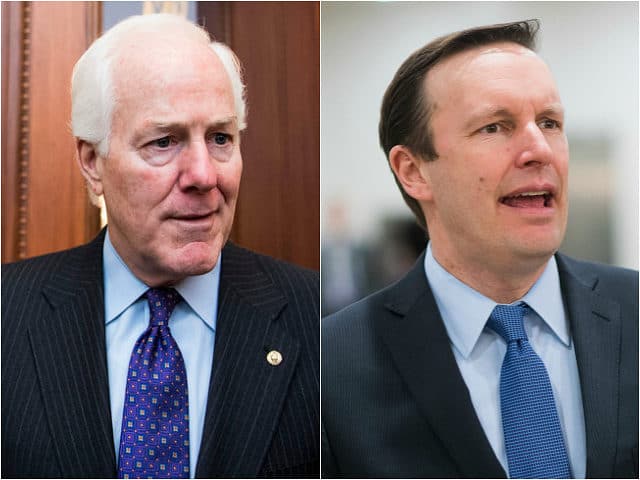 NBC News: John Cornyn, Chris Murphy 'Near Bipartisan Deal on Gun Control'
On Wednesday, NBC News reported that Sens. John Cornyn (R-TX) and Chris Murphy (D-CT) were nearing a "bipartisan deal on gun control."
Cornyn and Murphy are working together on gun legislation related to background checks in the wake of the Texas church attack.
The Texas gunman, Devin Patrick Kelley, passed a background check for his firearms, although he had a criminal record that should have prohibited him from doing so. Kelley acquired a criminal record sufficient to forfeit Second Amendment rights while in the Air Force, but that record was not in the National Instant Criminal Background Check System (NICS) because the Air Force "didn't report" it, according to the Chicago Tribune.
Defense Secretary Jim Mattis directed the Pentagon inspector general to review the failure to report Kelley's criminal background to NICS.
While the Pentagon inspector general is investigating the failure to report Kelley's record, NBC News reports that Cornyn and Murphy are putting forth a bill which asks "federal agencies and states to produce plans to upload and verify the criminal and mental health records necessary to bar unfit purchasers from buying a weapon." The bill also "[creates] incentives like grants for states that comply with the uploading requirements, and accountability measures like withholding political appointees bonuses for agencies that fail to do so."
NBC News reports that Sen. Murphy "has advocated for gun control legislation since the massacre at Sandy Hook Elementary School in 2013." No gun legislation he has pushed has succeeded or even come as close to succeeding as the legislation he and Cornyn are pushing now.
Read More at The Maven
Featured GOA News & Updates