GOA is fighting back to correct anti-gunners' lies
Written by Erich Pratt
Published: 05 June 2022
Anti-gunners have been dominating the airwaves to spread lies about guns.
Pelosi's anti-gun House held a hearing to gut the Second Amendment.
Anti-gunners in the media all but called 2A defenders murderers.
Joe Biden gave a primetime television address demanding gun control.
That's why Gun Owners of America has been doing nonstop media appearances to fight back and get the TRUTH out to the American public.
GOA has appeared in the New York Times, USA Today, The Washington Post, Epoch Times, Reuters, and scores of additional local outlets.
Plus here are just a few of our most recent TV appearances: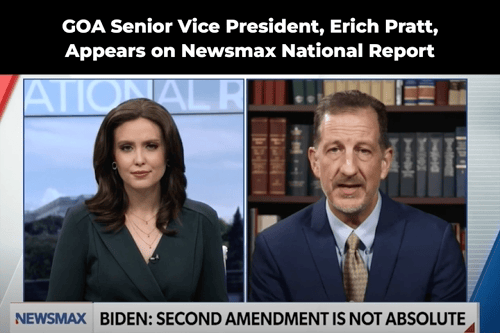 Now we need your help to show Congress that the American public wants Washington to keep their hands off our constitutional rights.
Please add your name to our pre-written letters to tell YOUR two Senators to vote no on the developing gun control framework in the 50-50 Senate – and to alert your representative in the House to vote no on Red Flag Gun Confiscation Laws and the gun control bill deceptively named "Protecting Our Kids Act."
During the House Judiciary Committee hearing, anti-gun Rep. Cicilline said, "spare me the bulls**t about Constitutional rights."
That's what Congress truly thinks about the Constitution.
To the Washington swamp, your God-given rights are "bulls**t."
Our country isn't on a slippery slope toward tyranny… we're galloping toward tyranny.
And to make matters worse, GOA just learned from gun industry sources that there are "pro-gun" groups who are helping negotiate away our freedoms. That's right, the National Shooting Sports Foundation is working with Senators Chris Murphy (D-CT) and John Cornyn (R-TX) on a "Red Flag" Gun Confiscation compromise.
This is why you must continue to speak out loud and clear. We The People must reclaim our rights before it's too late.
The first step is to ensure that our voices are heard loud and clear as the House and Senate prepare to vote on gun control measures that would shred the Second Amendment to pieces.
So please, help us keep the flood of letters going to Congress → add your name to our pre-written letters to tell YOUR two Senators to vote no on the developing gun control framework in the 50-50 Senate – and to alert your representative in the House to vote no on Red Flag Gun Confiscation Laws and the gun control bill deceptively named "Protecting Our Kids Act."
Featured GOA News & Updates