Moms Demand Action, Students Demand Action rally for gun reform
Written by Shannon Ryan, Fox 7
Published: 23 April 2021
Felisha Bull, Texas deputy director of Gun Owners of America, a gun rights organization, told FOX 7 Austin, "Every day, anywhere from 600 to 8,000 Americans use a firearm in self-defense, saving many lives.
---
Volunteers with Texas Moms Demand Action and Students Demand Action gathered at the Texas State Capitol Thursday morning as part of "Everytown for Gun Safety Action Fund's Road Trip for Background Checks."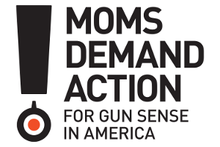 A series of nearly 60 demonstrations are being held over a ten-day period calling for stronger background check laws. The event culminates with a demonstration in Washington, D.C.
"It is very important to us that we do everything in our power to try to see fewer people feeling the way we feel today," said Carla Byrne. In 2019, Byrne's little brother 'Joey' was shot and killed in a mass shooting in Odessa.
Joey, also known as Joe Griffith, was murdered while sitting in his car with his wife and two children. He was one of eight people killed. 25 others were injured…
"We know that our country can do more to protect our families. Unfortunately, it just has not been a priority for our lawmakers." Moms Demand Action member Becca DeFelice said…
Felisha Bull, Texas deputy director of Gun Owners of America, a gun rights organization, told FOX 7 Austin, "Every day, anywhere from 600 to 8,000 Americans use a firearm in self-defense, saving many lives. Unfortunately, the misguided proposal of banning any private transfer of a firearm without a federal background check could hamper Americans' defensive gun use."
Bull added, "It would be a travesty to criminalize every single private sale, loan, or gift of a firearm that occurs without one of these checks. Worse, many individuals could be endangered due to being unable to defend themselves. Universal and expanded background checks harm the safety of Texans and do nothing to stop criminals from engaging in criminal acts."…
Read more at Fox 7
Featured GOA News & Updates