Look who's lying now! — Sen. Udall supports Obama 99% of the time, but now is trying to run from his liberal, anti-gun record
Written by Gun Owners of America
Published: 08 October 2014
Town Hall reported recently that your Senator Mark Udall (D) is trying to deceive you into thinking he is a strong critic of our anti-gun President Barack Obama.
Colorado's Mark Udall is the ultimate Obama rubber stamp. He's represented his purple state in a reflexively partisan, close-minded manner, backing President Obama 99 percent of the time.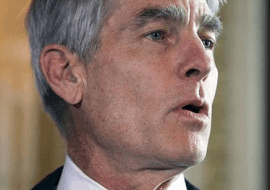 Gun owners know this is true, given that Sen. Udall supported most of the President's anti-gun agenda last year — including his votes for anti-gun judges, magazine bans, universal gun owner registration and more.
But despite supporting the President 99% of the time, he is now trying to present himself as Obama's worst nightmare:
"Over the last six months I've been a thorn in their side….  They haven't always been happy to take my calls over there [at the White House]," Udall said.
Really, Mark?  What about your golfing outings with the President?  
Even the uber-liberal MSNBC has pointed out that Senator Udall is one of the few legislators who have been invited to play golf with the Chief Executive.  So he's hardly in a position to say they are "not taking my calls" and that he's a "thorn" in Obama's side.
But this is typical Washington-style politics.  Anti-gunners like Udall will vote to eviscerate the Constitution and to restrict your Second Amendment rights, but at election time, they tell you they've been with you all along.
This is exactly what Sen. Udall is doing, but it's a complete and utter lie!  After all, he has even earned the endorsement of Everytown for Gun Safety — the group that was founded and funded by the anti-gun Michael Bloomberg.
Please check out GOA's compilation of Udall's voting record — his "Dirty Dozen" anti-gun votes that he cast last year.
You will see why Gun Owners of America has rated Udall as an "F" — and why his claims to be a "thorn in the side" of the most anti-gun President in our history just don't wash.
ACTION: Please distribute this alert to as many people as you can.  Distribute this to all of your state lists — and to your friends and family in the state.
Plus, please help Gun Owners of America with a generous contribution so that we can continue to alert as many Coloradoans as possible to Sen. Udall's dirty tricks — and his putrid, anti-gun record.