Killing Attacker in Pet Spa
Written by AWR Hawkins, Breitbart
Published: 15 December 2017
DA: Grandma Justified in Shooting, Killing Attacker in Pet Spa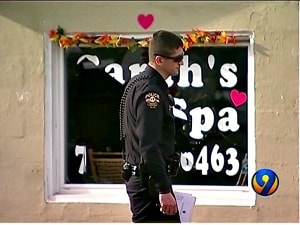 North Carolina's Cabarrus County District Attorney's Office says that the grandma who shot and killed an attacker at Sarah's Pet Spa was justified in so doing.
The grandma's name is Sarah Shoe and the incident occurred in November, with the DA ruling on it on Friday.
According to WSOCTV, DeShawn Tatem "forcefully and unlawfully" entered the spa and started attacking  Shoe's boyfriend. Her two grandchildren were present as well, and Shoe feared for their safety.
Tatem left after a heated verbal exchange, only to return with a group of individuals who were "yelling expletives" at Shoe.
Shoe called 911 and while she was talking to the dispatcher, a fight erupted between Tatem and Shoe's boyfriend. Her two grandchildren were standing by her side when Tatem begin moving toward her. The 911 dispatcher listened as Shoe shot Tatem. She then returned to the phone and said, "I just shot one and I'm going to shoot the rest of them."
She then told the dispatcher, "They are going to get guns, you better hurry." The dispatcher assured her that officers were on the way, then asked if Tatem was hurt. Shoe responded, "I mean I shot him in the face, he's probably dead."
Featured GOA News & Updates