GOA's Valdes Commends Local Committee Members in Florida for Opposing Gun Ban
Written by Ryan Blade, Indian River News
Published: 17 September 2022
IRC Republican Executive Committee Passes Resolution on Assault Weapons Ban to Senators Marco Rubio and Rick Scott
The Indian River County Republican Executive Committee unanimously voted on Wednesday September 14th, 2022 to pass a resolution to Senators Marco Rubio and Rick Scott on the proposed Federal Assault Weapons Ban, 2022 H.R. 1808.
Currently the only action taken on H.R. 1808 – 'Assault Weapons Ban of 2022' in the U.S. Senate has been a reading two times on the Senate Floor and referral to the Senate Judiciary Committee.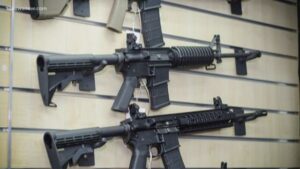 H.R.1808 – 'Assault Weapons Ban of 2022' passed mainly on party lines in the U.S. House of Representatives.
The resolution asks Senators Rubio and Scott to vote against H.R. 1808 and partake in all efforts to stop the bill's passage, along with filibustering it.
Congressman Bill Posey voted AGAINST H.R.1808 – 'Assault Weapons Ban of 2022.' Congressman Posey represents Indian River and Brevard Counties along with a portion of Orange County in the U.S. House of Representatives. He is a Republican.
Gun Owners of America Florida State Director Luis Valdes gave the following statement to Indian River News:
As the FL State Director of Gun Owners of America, I congratulate the Indian River County Republican for their steadfast support of the Second Amendment. They have openly called for the passage of Constitutional Carry and have now passed a resolution asking Sen.Marco Rubio and Sen. Rick Scott to vote against or filibuster the insidious "assault weapons ban" that has passed the House.

The legislation that gun control zealots are pushing in no way stops crime. What it does stop is law-abiding Floridians and Americans from exercising their civil liberties and freedoms. The Indian River County Republican Party is making sure that our elected officials in Congress know where they should stand on this issue.

And for that, I'm proud to say that the fine people of Indian River County, Florida share the same beliefs in freedom and liberty as Gun Owners of America does.