Gun Owners of America: We Need Roy Moore in the Senate to Secure Concealed Carry Reciprocity
Written by AWR Hawkins, Breitbart
Published: 11 September 2017
Gun Owners of America: We Need Roy Moore in the Senate to Secure Concealed Carry Reciprocity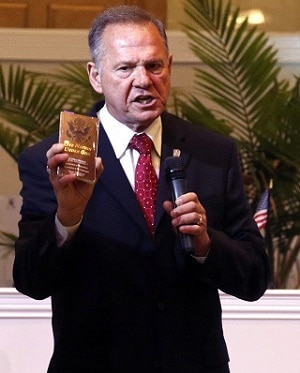 "Judge Moore has long been an articulate — and uncompromising — champion for gun rights." – GOA's Tim Macy
---
Gun Owners of America: We Need Roy Moore in the Senate to Secure Concealed Carry Reciprocity
Gun Owners of America (GOA) put out a September 11 press release rallying Alabama voters to support Judge Roy Moore for U.S. Senate in order to secure concealed carry reciprocity and suppressor deregulation.
The release quoted GOA Chairman Tim Macy, who said, "Judge Moore has long been an articulate — and uncompromising — champion for gun rights. And he will fight just as hard for gun owners in the U.S. Senate. There are few men I trust more than Judge Moore."
Click here to see more GOA News articles like this one.
Reciprocity legislation was introduced in the House on January 3, 2017, and companion legislation was introduced in the Senate. Moreover, legislation removing suppressors from the auspices of the National Firearms Act (1934) was introduced  on January 9, 2017, and pro-Second Amendment stalwarts are now needed to get both pieces of legislation moving. Macy observed, "That's why we need the Second Amendment Champion Judge Moore in the Senate — to help pass these bills."
Featured GOA News & Updates