GUN OWNERS OF AMERICA SUES TRUMP ADMIN OVER 'UNCONSTITUTIONAL' BANNING OF BUMP STOCKS
Written by Jenni Fink, Newsweek
Published: 27 December 2018
A gun rights activist group has sued President Donald Trump's administration, arguing that the recent ban on bump stocks was unconstitutional and illegal.
Gun Owners of America, a gun rights activist group and lobbying organization, announced on Wednesday filed a lawsuit in Western Michigan against the Bureau of Alcohol, Tobacco, Firearms and Explosives and its Acting Director Thomas Brandon; Acting Attorney General Matthew Whitaker; and the Department of Justice.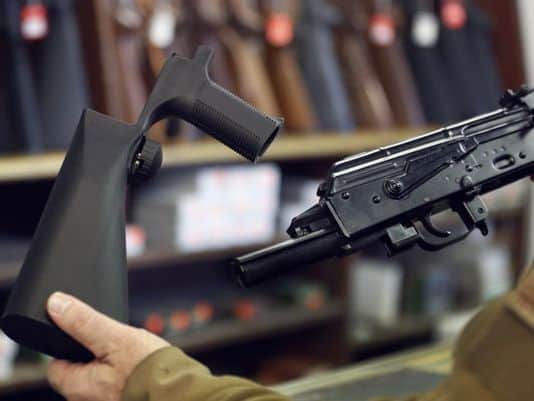 Erich Pratt, executive director of GOA, said the suit challenged the legality of the ATF's actions with regard to bump stock regulations and requested an injunction to stop the regulations from taking effect.
"These dangerous regulations can go much farther than just bump stocks," Pratt said. "The goal of the anti-gun left is, ultimately, not just banning bump stocks, but, rather, putting 'points on the board' toward its goal of banning civilian ownership of all firearms."
The lawsuit argued that the ATF had previously determined that bump stocks were not machine guns, which are illegal, under federal law. However, it claimed that decision changed after bump stocks were used during the mass shooting in Las Vegas at the Route 91 music festival.
Along with criticizing the ATF for concluding that bump stocks were machine guns, the lawsuit criticized Trump for bowing to political pressure following the shooting when he called for the reclassification of bump stocks.
Click here to see more GOA News articles like this one.
"ATF's reclassification of bump stocks as machine guns is a political decision designed to circumvent the legislative process, not a legal one based on any technical evaluation," the lawsuit claimed. "It ignores the plain text of the statute, and all prior ATF determinations and opinions."
The lawsuit called the reclassification of bump stocks arbitrary, and contrary to law. It added that the classification was an "irrational decision, unsupportable in either law or fact."
Read More at Newsweek
Featured GOA News & Updates