Gun control on the table in DFW
Written by Rachel Malone, Texas Director
Published: 07 October 2019
Hearing this Thursday on law enforcement using social media for "threat assessment"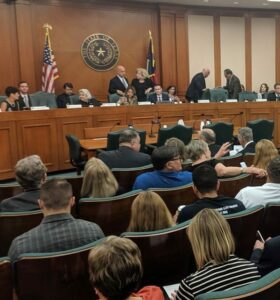 A special committee from the Texas Legislature is meeting in the DFW area this Thursday to discuss gun-related policy. Unfortunately, gun control is on the table.
In an attempt to keep criminals from committing violent acts, the legislature is considering ideas that violate gun owners' Constitutional rights.
Some of their ideas could penalize your free speech, open you up to wrongful searches and seizures, and infringe on your ability to keep and bear arms.
This Thursday's hearing will focus on law enforcement using social media and other online activity for "threat detection, assessment, reporting, and prevention." I am extremely concerned that the Texas government is looking for ways to access your private information, and I am concerned about how they plan to use it.
The ultimate purpose of the 2nd Amendment was to protect against a tyrannical government. We will never accept government overreaches of our Constitutional freedoms that purportedly keep us "safe" from criminals. We know these government "solutions" will not make us safer, but only threaten our liberties.
Please help us tell the committee members that they must not surrender any of our liberties for a false pretense of security.
Here is the information for this Thursday's meeting:
House Select Committee on
Mass Violence Prevention & Community Safety
Thursday, Oct. 10, starting at 9 am (no end time)
Brookhaven College Building C, Performance Hall
3939 Valley View Lane, Farmers Branch, TX 75244
Dress professionally.
Brookhaven's written policies indicate that they do not prohibit concealed carry in the Performance Hall. Remember that open carry is not legal on college campuses.
Public parking is in the P4 parking lot. See the campus map here
You may take pictures, video, and live stream (but keep the aisles clear and don't block others' view).
There is no end time — likely they will allow time for anyone who wants to speak to them. Expect it to last at least several hours.
Follow the facebook event page here for more information, including a prep meeting I'm hosting on Tuesday evening.
Here's how to help:
Attend if at all possible!
Stay for an hour or two or all day. Be sure to grab a GOA sticker from our GOA volunteers at the door!
Speak to the committee!
Prepare 2-3 minutes on the topics listed here. Share a story, your beliefs, your concerns, or what you want the committee to do. You will need to register (likely on witness cards available at the door).The committee will hear invited testimony first, then public testimony. Invited testimony will focus on law enforcement using social media and online activities for "threat assessment." Public testimony can address any of the committee's assigned topics.
Bring written testimony.
Bring 15 identical copies. Hand them to the clerk as soon as you get there. You will also need to register (look for witness cards at the door).
If you cannot attend, call the committee members.
You'll talk with a staff member. Tell them you are calling with a message for the representative regarding the Thursday hearing. Tell them your opinion, including things like this:

"I believe the government infringing on Constitutional rights is a GREATER threat to our safety than criminals."
"I do not want the government accessing our private information for threat assessment or any reason."
"Guns are used many times more often to save innocent lives than to harm them. So please stop marginalizing gun owners."
Contact Info: House Select Committee on Mass Violence Prevention & Community Safety
Chairman Drew Darby (R) —  512-463-0331
Vice-Chair Poncho Nevárez (D) — 512-463-0566
Rep. César Blanco (D) — 512-463-0622
Rep. Giovanni Capriglione (R) — 512-463-0690
Rep. Charlie Geren (R) — 512-463-0610
Rep. Barbara Gervin-Hawkins (D) — 512-463-0708
Rep. Julie Johnson (D) — 512-463-0468
Rep. Brooks Landgraf (R) — 512-463-0546
Rep. Mike Lang (R) — 512-463-0656
Rep. Joe Moody (D) — 512-463-0728
Rep. Geanie W. Morrison (R) — 512-463-0456
Rep. Four Price (R) — 512-463-0470
Rep. Armando Walle (D) — 512-463-0924
For more information on the hearing and to read the list of topics, click here.
The fight for liberty never ends. Thank you for fighting with me.
Featured GOA News & Updates