Gun control group's political arm pouring millions into midterm elections
Written by Katie Zezima, Washington Post
Published: 16 September 2018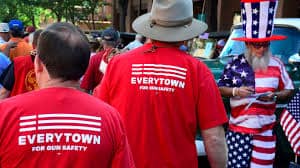 The Everytown for Gun Safety Action Fund is spending millions to support candidates in four states, underscoring the extent to which gun control is shaping up to be an issue in the November midterm election.
The fund, the political arm of the gun control group Everytown for Gun Safety, plans to spend $8 million to $10 million in Georgia, Michigan, Nevada and New Mexico as an initial investment in the election. It will include contributions to candidates, as well as independent expenditures such as mail, television, radio and digital ads.
"This is not a movement of blue states. This is a movement of Americans," said John Feinblatt, president of Everytown for Gun Safety, a nonprofit organization. "The old third-rail warnings are out the window and you can redraw the map and work on gun safety virtually anywhere in this country."
Click here to see more 2A articles like this one.
Feinblatt said the initial sum is a "curtain raiser" on what will come between now and the election.
Everytown's strategy to change gun laws has focused on statehouses. The focus on individual races is an outgrowth of that, Feinblatt said, and resources are being used where the group thinks it can make the most difference.
In Georgia, the group is spending money on Democrat Stacey Abrams's gubernatorial race. Abrams has called for universal background checks for firearms sales and repealing a state law that allows permit holders to carry guns on college campuses…
Featured GOA News & Updates