GOA's No Compromise Alliance Urges Congressional Leadership to Reject "Assault Weapons Ban"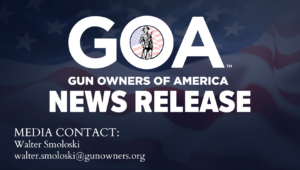 For Immediate Release 
July 29, 2022
Washington, D.C. – Today, Gun Owners of America and nine partners from the firearms industry, sent a letter to Congressional leadership, urging them to reject any "Assault Weapons" Ban.  The full letter can be viewed here.  GOA's No Compromise Alliance is composed of business partners representing all aspects of the firearm industry, and they are dedicated to further strengthening the bonds across the industry in defense of Americans' Second Amendment Rights.  
Kailey Nieman, GOA's Director of Development, issued the following statement:
"GOA and our industry partners believe wholeheartedly in the preservation of liberty, whether it be defending commonly-owned firearms or ensuring protections from frivolous litigation, we stand together against the unconstitutional actions of Congress. We understand firsthand the attack on our Second Amendment and we are honored to have strong partners on the frontlines of this fight."
Aidan Johnston, GOA's Director of Federal Affairs, added:
"It's so exciting to see members of the industry join us in opposition to this unconstitutional bill. GOA is at the forefront of this fight, and we will continue to lobby our elected officials on Capitol Hill to reject this legislation for what it is—a direct assault on your rights."
GOA spokesmen are available for interviews.  Gun Owners of America is a nonprofit grassroots lobbying organization dedicated to protecting the right to keep and bear arms without compromise. GOA represents over two million members and activists. For more information, visit GOA's Press Center.
-GOA-
Featured GOA News & Updates