What gun groups want from Trump
Written by Tim Devaney
Published: 10 December 2016
What gun groups want from Trump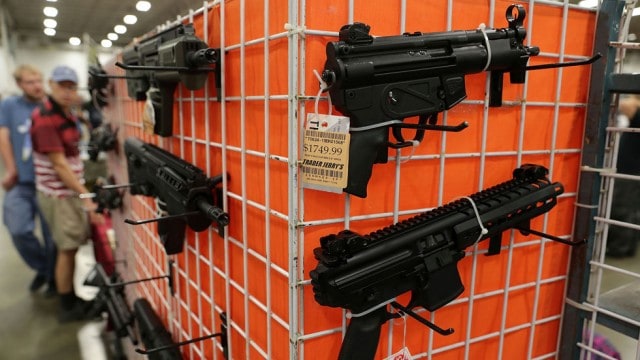 "Michael Hammond, legislative counsel at the Gun Owners of America, said gun-free school zones make students 'sitting ducks,' because there is no one to defend them in the event of a mass shooting." 
---
What gun groups want from Trump
The gun lobby is looking to tighten its grip in Washington with [Donald] Trump taking the reins in the White House and Republicans maintaining control of Congress….
The Gun Owners of America (GOA) is also getting behind the push for reciprocity, as well as a plan to allow armed teachers to carry guns in schools.
Michael Hammond, legislative counsel at the Gun Owners of America, said gun-free school zones make students "sitting ducks," because there is no one to defend them in the event of a mass shooting.
The Gun-Free School Zones Act introduced by then-Sen. Joe Biden (D-Pa.) prohibits firearms near schools. The Supreme Court struck down a provision of the law in 1995, but Congress issue a similar version a year later.
Trump could argue the federal gun ban in schools is unconstitutional, because it does not comply with the Supreme Court ruling, and refuse to prosecute schools that violate it, said Hammond.
The Gun Owners of American would also like Trump to weaken federal background check requirements for existing concealed carry permit holders.
"Trump could announce that he is using prosecutorial discretion in the same way that Obama used it for illegals," Hammond wrote in a memo.
The group is also calling for legislation to "eliminate funding for anti-gun states," such as states that have a gun ban or confiscation program, gun registry, or ammunition ban.
Featured GOA News & Updates