South Dakota CCW Bill
Written by Gun Owners of America
Published: 20 January 2012
Constitutional Carry in South Dakota

{flike}
A bill to do away with the state's requirement of obtaining a government-issued permit to carry a concealed firearm was defeated in committee by a vote of 7-5 (See vote below).
South Dakotans can currently carry firearms openly.  HB 1015, authored by State Rep. Don Kopp (R-Rapid City), would simply have allowed a person to also conceal a firearm without facing criminal penalties.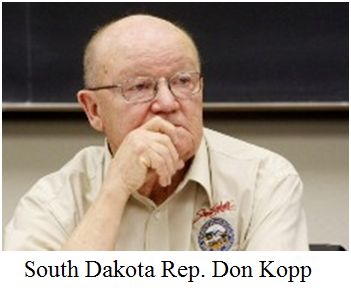 "This just doesn't penalize the citizens, to make him buy a permit to defend himself – which I believe is unconstitutional," Rep. Kopp said.
Rep. Kopp's bill, known as Constitutional Carry, recognizes that we have an individual right to keep and BEAR arms – and that forcing citizens to first obtain government approval to carry a firearm turns that fundamental right into a privilege.
Violent criminals don't form a line at the sheriff's office to obtain a permit, yet law-abiding citizens have to first prove their innocence before being allowed to carry a firearm for self defense.
HB 1015 would keep the permitting process in place for residents who want one for purposes of reciprocity.
Gun Owners of America applauds Rep. Kopp for his efforts to protect the Second Amendment.  Although the Judiciary Committee voted down the bill, it is still possible for supporters to bring the bill directly to the floor.  Please urge your legislators to do so.
ACTION: Please contact your two representatives and ask them to support HB 1015 by bringing it directly to the floor for a vote.
Click here for a list of Representatives.
Not sure who your two reps. are?  Click here and enter your county to identify your representatives.
How the House Judiciary Committee voted
Against the bill:
Rep. Gene Abdallah, R-Sioux Falls
Rep. Jamie Boomgarden, R-Chancellor
Rep. Peggy Gibson, D-Huron
Rep. Kevin Killer, D-Pine Ridge
Rep. Chuck Turbiville, R-Deadwood
Rep. Brian Gosch, R-Rapid City
Rep. Roger Hunt, R-Sioux Falls
For the bill
Rep. Jon Hansen, R-Dell Rapids
Rep. Don Kopp, R-Rapid City
Rep. Stace Nelson, R-Fulton
Rep. Lance Russell, R-Hot Springs
Rep. Shawn Tornow, R-Sioux Falls
Featured GOA News & Updates