GOA Leads 6,000+ Veteran Letter to Congress Urging Action on Pistol Braces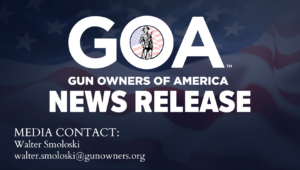 FOR IMMEDIATE RELEASE
Washington, D.C. – Today, Gun Owners of America sent a grassroots coalition letter to Congressional leadership urging action on the Biden Pistol Brace Ban. The letter was signed by 6,721 servicemen and veterans, as pistol braces were first designed to allow disabled American veterans in shooting firearms without assistance.
In addition, the National Defense Committee, a veteran's service organization focusing on veterans' civil rights, led another letter that was also addressed to Congressional leadership demanding similar action. This letter was signed by over a dozen different veteran service organizations.
Majority Leader Scalise and Representative Andrew Clyde also joined Gun Owners of America in announcing a vote on H.J. Res. 44 in the House of Representatives next week.
Erich Pratt, Senior Vice President of Gun Owners of America, issued the following statement:       
"GOA is incredibly supportive of this effort by Majority Leader Scalise to vote on Rep. Clyde's bill to block the draconian Biden Pistol Brace Rule. ATF far exceeded their authority with this rulemaking, and it's critical that Congress send this message to the president and the Courts. Otherwise, Biden's ATF will continue to weaponize the outdated National Firearms Act to arbitrarily change definitions and attack supporters of the Second Amendment." 
Dick Anthony Heller, U.S. Army, Airborne, E-4, a signer of the grassroots veteran letter, and the lead plaintiff in the landmark D.C. v. Heller case, added:   
"ATF previously approved pistol braces, which were invented as a plastic accessory to help wounded combat veterans utilize self-defense firearms. But this rogue agency is now backtracking and criminalizing millions of Americans in the process. Unless you are a GOA member like me who is protected by a federal court injunction, individuals caught with an unregistered braced firearm after June 1st can face felony charges carrying a maximum of ten years in prison. This is an abuse of power, grossly infringes on the Second Amendment, and the entire rule must be blocked by Congress to protect every pistol brace owner immediately." 
Bob Carey, CAPT, USN (Ret), and Executive Director of the National Defense Committee, stated: 
"189 Members of the House, led by Representatives Clyde and Hudson, are holding the Bureau of Alcohol, Tobacco, Firearms, and Explosives (ATF) to account for their unconstitutionally arbitrary and capricious gun-grab of the very firearms disabled veterans use to safely and securely operate those guns.  National Defense Committee salutes Representatives Clyde and Hudson for their leadership on H. J. Res. 44, and salute Leader Scalise for committing the House to vote on this important reclamation of Congress' legislative powers next week.  National Defense Committee and the other supporting veteran organizations stand ready to assist these leaders in getting H.J. Res. 44 passed."  
GOA spokesmen are available for interviews.  Gun Owners of America is a nonprofit grassroots lobbying organization dedicated to protecting the right to keep and bear arms without compromise. GOA represents over two million members and activists. For more information, visit GOA's Press Center.
Featured GOA News & Updates