GOA Endorses Legislation to Protect SBRs, SBSs, and AOWs from NFA Abuses Under Biden Administration
Written by Gun Owners of America
Published: 28 February 2022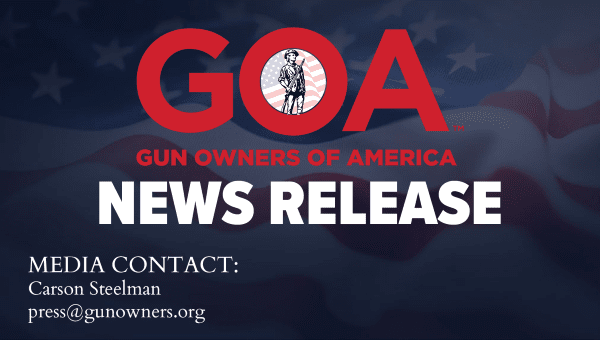 WASHINGTON, D.C. – Today, Gun Owners of America (GOA) announced their support of three pieces of legislation to protect abuses of the National Firearms Act of 1934 by the Biden Administration – S. 803, H.R. 4312, and H.R. 6817.
"Pro-gun Members of Congress must do everything possible to block the Biden administration from weaponizing the NFA to ban roughly 40 million lawfully acquired pistols," said Aidan Johnston, GOA's Director of Federal Affairs. "Thanks to U.S. Senator Roger Marshall and U.S. Representatives Jeff Duncan and Chip Roy, these three crucial pieces of legislation will be an important step towards achieving our no-compromise goal of repealing the NFA."
S. 803, the Home Defense and Competitive Shooting Act, was introduced by U.S. Senator Roger Marshall (R-KS) and would remove short-barreled rifles (SBRs) from the NFA and eliminate the prohibition of the transportation of SBRs in interstate commerce.
H.R. 4312, the No Frivolous Applications for Short Barreled Shotguns (NFA SBS) Act, was introduced by U.S. Representative Jeff Duncan (R-SC) and would apply this to short-barreled shotguns (SBSs).
H.R. 6817, the No Backdoor Gun Control Act, was introduced by U.S. Representative Chip Roy and would repeal the Any Other Weapon (AOW) catch-all term.
Together, these bills constitute GOA's Second Amendment Rescue Plan. These three GOA-backed bills would:
Gut the NFA;
Stop the registration, taxation, and regulation of SBRs, SBSs, and AOWs; and
Undermine the legal impetus for Biden's proposed pistol ban.
All three pieces of legislation and GOA's full Second Amendment Rescue Plan can be found on GOA's website.
GOA spokesmen are available for interviews. Gun Owners of America, and its sister organization Gun Owners Foundation, are nonprofits dedicated to protecting the right to keep and bear arms without compromise. For more information, visit GOA's Press Center.
–GOA–
Featured GOA News & Updates