GOA Endorses H.R. 38, the Concealed Carry Reciprocity Act of 2021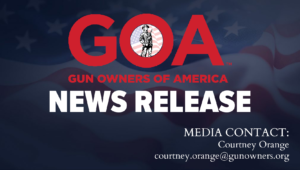 January 4, 2021 
For immediate release  
GOA Endorses H.R. 38, the Concealed Carry Reciprocity Act of 2021 
 Today, Representative Richard Hudson (NC-08) introduced H.R. 38 the Concealed Carry Reciprocity Act of 2021 with an incredible and bipartisan 154 original cosponsors. 
"Our Second Amendment rights do not disappear when we cross state lines, and H.R. 38 guarantees that," said Rep. Hudson. "The Concealed Carry Reciprocity Act of 2021 is a common sense solution to provide law-abiding citizens the right to conceal carry and travel freely between states without worrying about conflicting state codes or onerous civil suits. I am especially proud to have such widespread and bipartisan support for this measure and will work with my colleagues to get this legislation over the finish line." 
"Our Second Amendment rights don't end at the state border," said GOA Senior Vice President Erich Pratt. "Congress must immediately pass the Hudson bill so that honest people don't go to jail, simply because they carried a firearm for self-defense." 
This historic and bipartisan number of 154 original sponsors demonstrates unity around the Second Amendment.   
— GOA —  
Featured GOA News & Updates