GA School Receives Backlash for Taking Children to Gun Range
Written by Erika Haas, Bearing Arms
Published: 05 September 2017
GA School Receives Backlash for Taking Children to Gun Range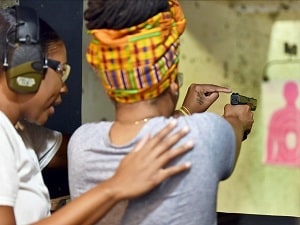 A private school in Georgia is receiving quite a bit of backlash for taking a group of young children on a field trip to the gun range.
The torrent of angry comments came when Tammy Dorsten, the owner of Holdheide Academy, posted pictures – which have since been removed – of a 1st and 2nd grader handling revolvers at Hi-Caliber Firearms gun range to the school's Facebook page.
Dorsten told CBS 46 that the outrage came as quite a surprise to her.
"The posts were deleted because of the nasty comments put from people not even in this community," she explained. "I was shocked that people were that upset. I was shocked that people didn't call me, that they wanted to use profanity first."
Click here to see more 2A articles like this one.
According to Dorsten, students at Holdheide are currently learning about Annie Oakley, Pecos Bill and Davy Crockett, which is a part of the Georgia-approved curriculum. To supplement the lesson, Dorsten thought it would be a good idea to bring students to the range to show them just how difficult sharpshooting is. The range they visited even has the type of 1894 rifle that Oakley would've used.
Only two students ended up attending, after handing in a signed permission slip from their parents of course.
"This was a wonderful learning experience with a safety class before and after the guns were handled," Dorsten told CBS 46.
Featured GOA News & Updates