Help to Advance 2A Rights in Florida
Written by Erich Pratt
Published: 10 December 2020
I have some terrific news to report from Tallahassee.  Pro-gun Rep. Anthony Sabatini (R) has introduced not one, but two strong bills to protect Second Amendment rights in Florida.
The bills are HB 6001 and HB 6005: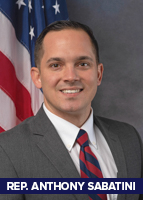 1) Campus Carry.  HB 6001 would repeal Florida's onerous ban on self-defense concealed carry on college campuses.
HB 6001 is a good bill, but GOA wants to help make it even better. The way to do that is to not only repeal the carry ban on campus, but to also repeal the carry ban at collegiate athletic events — which in most cases take place on campus.
GOA has spoken with Rep. Sabatini, and he agrees with our assessment. He has committed that if HB 6001 receives a public hearing he will offer an amendment to make HB 6001 into a great bill.
We have an uphill fight to even get HB 6001 scheduled for a public hearing, Rep. Sabatini has introduced similar bills twice before and leadership has refused to even hold a public hearing and a debate.
John Thrasher, a former Senator and President of Florida State University has already called out Rep. Sabatini and is committed to defeating HB 6001.
Mr. Thrasher is delusional if he thinks a mass murderer (or any other criminal) will actually obey the gun ban.  It didn't work at Marjory Stoneman Douglass High School — or any of the other gun free zones, including Florida State University itself when in 2014 there was an armed gunman that attacked the Strozier Library. You may remember that one of those injured was a concealed weapons permit holder, but he was disarmed by state law.
Thrasher's opposition to campus carry will continue to make Florida college campuses less safe.  Florida's students, faculty, support staff and visitors are less safe due to the anti-gun ideology of Mr. Thrasher and others like him.
Please Take Action above to help encourage the Republican-controlled House to take up Rep. Sabatini's bill.
2) Repealing the self-defense ban during a state of emergency. Rep. Sabatini has also introduced HB 6005 — a bill which repeals Florida's onerous and unconstitutional ban on the sale, display and carry of firearms or ammunition when any public official has declared that a state of emergency exists.
Earlier this year,  anti-gun Mayor Keith A. James of West Palm Beach declared a state of emergency due to nationwide riots and unrest.  That is when the practical effect of F.S. 870.044 was on display for all to see — when the state of emergency was used to force the closure of the Guns and Range Training Center.  The business was already suffering due to COVID-19 and this forced closure really harmed the gun store.
Rep. Sabatini told GOA that he expects HB 6005 to be assigned to the Criminal Justice & Public Safety Subcommittee. When that happens we will send another alert to let you know what action we need you to take to help HB 6005 become law and repeal Florida's onerous (and unconstitutional) state of emergency gun ban.
Please Take Action above to help encourage the Republican-controlled House to take up Rep. Sabatini's bill.
Now For the Bad News …
The bad news is that anti-gun Rep.  Dan Daley has introduced HB 25 which mandates that you submit to a background check to purchase ammunition.
HB 25 will most certainly drive up ammunition prices, outlaw mail order and online sales of ammunition and make Florida more like New York or California.  HB 25 must be defeated!
GOA knows that when grassroots gun owners become engaged that we can win.  So here is what I need you to do today.
Take Action!
When you take action above, the GOA Action Center will send two emails:
The first urges your state Representative to support both bills introduced by Rep. Sabatini — and urges opposition to HB 25.
The second email urges Speaker Chris Sprowls (R) to schedule public hearings and debates on both HB 6005 and HB 6001.
Tell Speaker Sprowls that you resent the fact that the Florida House operates as a legislative dictatorship whereby committee chairman and leadership are allowed to pick and choose favored and disfavored bills and prevent rank and file representatives from voting on such weighty measures like HB 6001.
Please also let Speaker Sprowls know that you expect his leadership group to oppose HB 25 and to make sure that it is defeated.
Featured GOA News & Updates