Gun Owners of America Proudly Endorses Anna Paulina Luna For Florida's 13th Congressional District!
Written by Luis Valdes
Published: 22 June 2022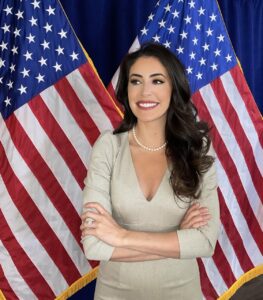 – Today, Gun Owners of America (GOA) is proud to announce the endorsement of Anna Paulina Luna for the 2022 Florida's 13th Congressional District primary election.
Right now, especially in Florida, we have an issue with an entrenched political class that views the Second Amendment rights of Floridians as a privilege and not a right.
GOA's Florida State Director, Luis Valdes, spoke with Ms. Luna and asked her a series of questions relating to Floridians' Second Amendment rights. These questions were simple and align with GOA's no compromise stance.
Anna Luna wants to Repeal Red Flag Orders and restore Floridians' Second, Fourth, and Fifth Amendment rights.
She understands that she can use her office as a bully pulpit to persuade State, County, and Local officials to uphold their oaths to the Constitution and expand the rights of Floridians.
Advancing legislation in Congress to restore the rights of all Americans. Such as, National Reciprocity and the ending of Federal encroachment on the Second Amendment by repealing gun-free zones.
Blocking Anti-Gun Legislation such as bans on Assault Weapons, Magazines, and Waiting Periods, and other horrible pieces of legislation that turn a right into a privilege turning good people into victims.
As GOA's Florida State Director, I believe in working hand in hand with solid Second Amendment advocates both at the State and Federal levels.
Ms. Luna said the following:
I understand that I represent Floridians, not the DC Elite. My megaphone and platform is always open to GOA.
Tim Macy, GOA's Chairman stated the following:
The 2022 election cycle will be critical for gun owners and their rights. We hope our list of candidates, and the information we share, helps get more gun owners to the polls.
For more information about Gun Owners of America, please visit gunowners.org.
Gun Owners of America is a grassroots nonprofit organization representing more than two-million-gun owners who are dedicated to protecting the right to keep and bear arms without compromise. For more information, visit GOA's Press Center. GOA spokespeople are available for interviews.
Featured GOA News & Updates