Erich Pratt to Newsmax: Blame Dem Cities for Crime, Not Guns
Written by Nick Koutsobinas, Newsmax
Published: 15 March 2023
Democrat-controlled cities are to blame for the violence in America today, not the increase in guns, Erich Pratt, senior vice president for Gun Owners of America, told Newsmax on Tuesday.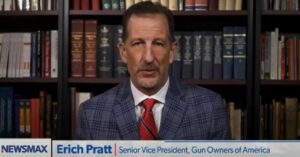 Speaking with "Rob Schmitt Tonight" and reacting to former "Daily Show" host Jon Stewart's comment about the increase in gun circulation being attributable to the increase in "gun deaths," Pratt said if he were there, he would have told Stewart that "while we had an increase in … gun ownership … I would have pointed out was at the same time we also had a 40% decrease drop in the murder rate. So literally, we had more guns, less crime."
"The real problem," Pratt explained, "is that anti-gun Democrats keep throwing criminals back out on the street.
"I mean, it's the Democrat-controlled cities that are setting homicide records. And you know the story … that's because they're eliminating bail," Pratt continued. "They're reducing criminal penalties.
"In some cases, they're refusing to prosecute murder. The police chief in [Washington] D.C. said that the average murder suspect has 11 prior arrests. They've literally turned cell doors into revolving doors," added Pratt.
Read more at Newsmax