Citizen Named Honorary Sheriff's Deputy After Shooting Alleged Robbers with Shotgun
Written by AWR Hawkins, Breitbart
Published: 17 December 2017
Citizen Named Honorary Sheriff's Deputy After Shooting Alleged Robbers with Shotgun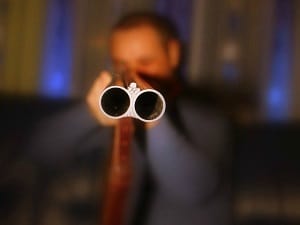 Georgia's Burke County Sheriff's Office named Henry Daniel Jr. a "Honorary Deputy" after he used a shotgun to defend his life and business from two alleged robbers.
On December 14 WAGT reported there were two suspects in the alleged attempted robbery and one was transported to the hospital for treatment after Daniel opened fire. One of suspects, 17-year-old WL Zaddrick Rouse, was charged and placed in the Burke County Detention Center.
Police say that Daniel was closing up his business for the day when Rouse and the other suspect allegedly approached and demanded money. One of the two suspects hit Daniel in the face then turned to flee, but their plans were interrupted by a shotgun blast and Daniel took aim and fired.
On December 15 the Burke County Sheriff's Office named Daniel a "Honorary Deputy" for the manner in which he fought back:
Featured GOA News & Updates