Bring Constitutional Carry to Alabama!
Written by Jordan Stein
Published: 15 February 2019
You don't need government permission to bear arms!
Take Action below to send a pre-written letter urging your state lawmakers to support Constitutional Carry.

Urge Your Lawmakers and the House Speaker to Support Constitutional Carry
Constitutional Carry is the number one state legislative priority for Gun Owners of America.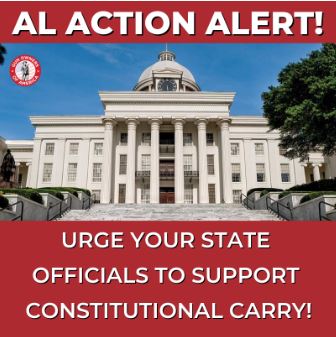 And Alabama may be the next state to join the Constitutional Carry Club thanks to Senator Gerald Allen.
His bill, Senate Bill 4, would make Alabama the 16th state in the country to recognize the right to protect yourself and your family without first getting the government's permission.  
At its core, it's simple:  SB 4 would legalize concealed carry without a permit for honest citizens in Alabama.
It would allow you to get an optional permit for purposes of reciprocity and Brady Check exemption — but would not require it in Alabama.
The reason that "Constitutional Carry" has been so popular is obvious: You should not be required to get the government's permission to exercise your constitutional right to defend yourself, your family, your friends, your community, and our Constitution.
States which have adopted "Constitutional Carry" such as New Hampshire, North Dakota, and Maine are the safest states in the country.
Speaker McCutcheon is the biggest threat to Constitutional Carry
As in other states, achieving an extraordinary victory won't just fall into our laps.  It will take the efforts of all of gun owners across Alabama to push SB 4 through the Alabama House and Senate and onto the governor's desk — and to secure the governor's signature.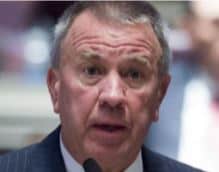 And one of the biggest challenges to Constitutional Carry has been House Speaker Mac McCutcheon.
McCutcheon has repeatably assigned Constitutional Carry legislation to committees with an anti-gun chair, forcing this legislation to die without ever being brought to the floor.
So please Take Action below to contact Speaker McCutcheon.
Politely, but firmly, tell him to make legislation like SB 4 a priority and urge him do everything in his power to pass Constitutional Carry out of the state house.
Again, you can contact your state Representative and Senator ABOVE, while contacting Speaker McCutcheon BELOW.
And after you've emailed the Speaker, the system will give you a phone script if you wish to call him. (You can also reach Speaker McCutcheon at 334-261-0505.)
Thanks in advance for taking action.
And if you've let your membership lapse, make sure to renew your membership in Gun Owners of America today for only $20!
---
Take Action below to send a pre-written letter urging Speaker Mac McCutcheon to immediately bring up permitless carry legislation!

Featured GOA News & Updates